Jamieson Vitamin B50 Complex Value Pack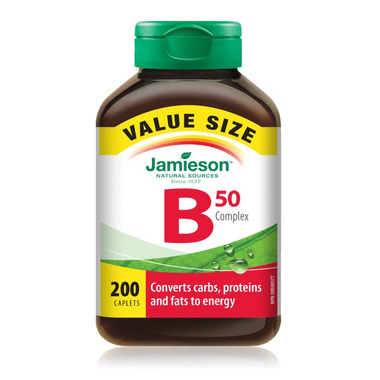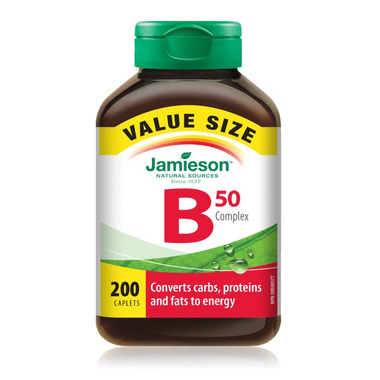 Jamieson Vitamin B50 Complex Value Pack
Jamieson B Complex 50 mg provides each essential B vitamin to help boost metabolism and promote energy levels. It also helps to ease stress, anxiety and depression while helping to maintain a healthy immune system.

Features:
Helps maintain energy levels
Helps the body to metabolize carbohydrates, fats and proteins
A factor in the maintenance of good health and formation of red blood cells
Suggested Use:
Take 1-2 caplets daily.
Ingredients: Vitamin B1 (Thiamine Mononitrate) 50 mg, Vitamin B2 (Riboflavin) 50 mg, Vitamin B3 (Niacinamide) 50 mg, Vitamin B6 (Pyridoxine HCl) 50 mg, Vitamin B12 (Cyanocobalamin) 50 mcg, Biotin 50 mcg, Pantothenic Acid (Calcium d-Pantothenate) 50 mg, Folate (Folic Acid) 0.4 mg, Choline Bitartrate 50 mg,• Inositol 50 mg.
Amino benzoic acid, cellulose, vegetable stearic acid, vegetable magnesium stearate, silica, natural peppermint flavour, water-soluble cellulose, polyethylene glycol, Brazilian palm tree wax, peppermint oil.
NO gluten, lactose, artificial colours, flavours or preservatives.
Caution:
Consult a health care practitioner prior to use.