Jamieson
Jamieson Vitamin C Bonus Pack
500 mg Mixed Flavours 120 Tablets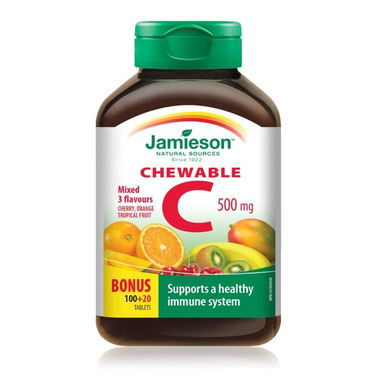 500 mg Mixed Flavours
120 Tablets
---
Description
When you're feeling under the weather, what could taste better than a shot of refreshing fruit? Jamieson Laboratories introduces a new chewable product that combines the goodness of vitamin C with the delicious flavours of orange, morello cherry and tropical fruit.

Chewable Vitamin C promotes healthy capillaries, gums and teeth and aids in iron absorption. It helps heal wounds and broken bones and treats anemia — especially iron-deficiency anemia — by increasing the absorption of iron from the intestines.

Vitamin C also plays a role in the formation of collagen in connective tissue and contributes to hemoglobin and red-blood-cell production in bone marrow. By boosting the immune system,Vitamin C prevents many types of viral and bacterial infections and is an ally in the treatment of the common cold.

Benefits:
Helps to metabolize fats and proteins
Helps in the development and maintenance of bones, cartilage, teeth and gums
Helps in connective tissue formation
Helps in wound healing
An antioxidant for the maintenance of good health
May help reduce duration and severity of the common cold
Each tablet contains:
Vitamin C 500 mg (ascorbic acid, sodium ascorbate); Supporting Botanical Blend 7 mg
Derived from:
Hesperidin Complex (Citrus sinensis, pericarps), Lemon Bioflavonoids (Citrus limon, rind), Acerola Cherry (4:1) extract (Malpighia glabra, fruit), Rosehips (Rosa laevigata, fruit) and Rutin (Dimorphandra mollis).

Excipients:

Orange: Dextrose, Cellulose, Vegetable Stearic Acid, Natural and Artificial Orange Flavours, Vegetable Magnesium Stearate, Silica, Curcumin Complex (Turmeric), Sucralose, Natural Carmine.

Tropical: Dextrose, Vegetable Stearic Acid, Vegetable Magnesium Stearate, Natural and Artificial Banana, Mango, Passion Fruit, Kiwi and Tropical Punch Flavours, Silica, Sucralose.

Cherry: Dextrose, Mannitol, Natural Cherry Flavour, Vegetable Stearic Acid, Vegetable Magnesium Stearate, Cellulose, Calcium Carbonate, Citric Acid, Silica, Sucralose, Natural Carmine Colour.
Highlights

Shipping & Returns