Jamieson
Jamieson Vitamin C & D Chewable Tablets
Morello Cherry Flavour 75 Tablets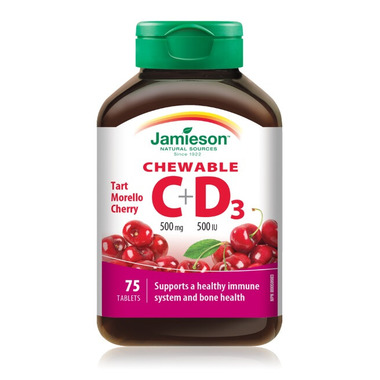 Jamieson
Jamieson Vitamin C & D Chewable Tablets
Morello Cherry Flavour
75 Tablets
Jamieson Vitamin C and D Chewable Tablets
is rated out of
5
by
20
.
---
Description
Research indicates that supplemental Vitamin C can reduce the duration and severity of the common cold and your susceptibility to it. Why? Vitamin C boosts your immune system so your body battles illness more effectively.

Jamieson Vitamins C & D - Chewable Morello Cherry is the first Vitamin C formula to be enriched with Vitamin D3, the same disease-fighting form produced when your skin is exposed to sunlight. Combined, they protect you - even during the winter months when sunshine is limited. This innovative product is a great choice for anyone who regularly takes Vitamin C, but wants additional protection from Vitamin D.

Formulated from fresh, pure and active natural sources, Vitamins C & D - Chewable Morello Cherry is sweetened with sucralose, which doesn't harm tooth enamel.

Directions: For adults. One tablet daily.

Dosage: 500 mg & 500 IU
Highlights

Ingredients
Ingredient Information Vitamin C 500 mg (ascorbic acid, sodium ascorbate); Vitamin D3 (cholecalciferol) 500 IU; Rutin (from Dimorphandra mollis pod) 1.4 mg; hesperidin complex (Citrus limon, Citrus sinensis, Citrus paradisi rind) 1.4 mg: Lemon bioflavonoids (Citrus limon rind) 1.4 mg; Acerola cherry fruit (4:1) extract 1.4 mg (Malpighia glabra, equivalent to 5.76 mg of raw herb); Rosehips (Rosa canina, fruit) 1.4 mg. Excipients: Dextrose, mannitol, natural morello cherry flavour, vegetable stearic acid, vegetable magnesium stearate, microcrystalline cellulose, calcium carbonate, citric acid, silica, sucralose, natural carmine colour.
Shipping & Returns
Rated

5

out of

5
by
tanya
from
love this combo...and the cherry flavor is great for the kids. First bought it at a local grocery store around here. It was being blown out...bought 8 after my family liked it and then I never have seen it again. Saw it here and it was on sale...immediately bought a few containers.
Date published: 2013-04-04
Rated

5

out of

5
by
Victoria
from
two of the most important supplements of all time in one? YEY love these! They taste like a slightly sour cherry but are still sweet at the same time. They disolve easily so are very easy to chew! Thanks to well.ca for the great prices!
Date published: 2015-01-20
Rated

5

out of

5
by
Andrea
from
Flavour gets two thumbs up from my picky kids. I like that it is a two for one vitamin pill containing two of the vitamins we regularly use supplements for, thus eliminating a bottle off of my kitchen counter.
Date published: 2017-10-26
Rated

5

out of

5
by
Kari
from
Just saw a few other reviews by people who disliked the flavour of these. Our experience is quite different; my kids love the flavour so much they pretend to have colds so try to get more!
Date published: 2016-05-30
Rated

5

out of

5
by
Wendy
from
these taste amazing!! love the cherry flavour, does not taste like medicine. The only thing is it has carmine for color, not sure how safe this dye is.
Date published: 2016-04-02
Rated

5

out of

5
by
bailliebee
from
so yummy!
I love these :) I've become addicted to these in the last few months. It's an easy way to get vitamin D in the winter.
Date published: 2020-03-07
Rated

5

out of

5
by
David Chalmers
from
Not only is it easy to remember to take this vitamin because of its taste, I actually look forward to it like a small treat. I have been taking these for the last four months and so far I haven't had a cold while others at work have all had one. This has now become a permanent part of my daily routine.
Date published: 2011-02-08
Rated

1

out of

5
by
Kimberly
from
I ordered two bottles and both bottles tasted just chalky, with no flavouring. They were pink as they should be, but sadly the taste is horrible. Defeats the purpose of chewable products.
Date published: 2015-05-28