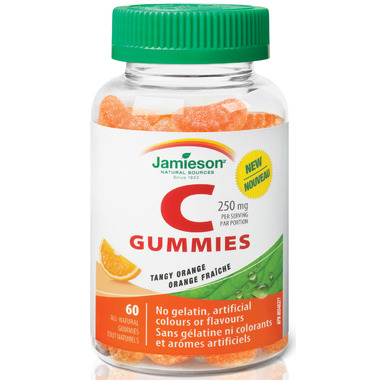 Description
Vitamin C is an important nutrient for optimal health. It boosts immunity to help resist infections, and it fights damaging free radicals, thereby playing a part in preventing chronic diseases. Jamieson's Vitamin C Gummies are a fun and tasty way to meet your daily Vitamin C requirements. The delicious orange-flavoured formula is made with fruit pectin (gelatin-free), which makes it suitable for vegetarian diets. It is also free of aspartame, artificial colours and artificial flavours.
Benefits:
May help reduce duration and severity of the common cold
An antioxidant for the maintenance of good health
Helps the body to metabolize fats
Helps in the development and maintenance of bones, cartilage, teeth and gums
Helps in connective tissue formation
Helps in wound healing
Suggested Usage:
Adults: Chew 2 gummies daily. Store between 15ºC-25ºC, away from children.
Ingredients (per 2 gummies):
Vitamin C (Ascorbic acid)………………...……250 mg
Excipients
: Sucrose, glucose syrup, pectin, citric acid, natural orange flavour, natural annatto colour, lactic acid.
Highlights

Shipping & Returns