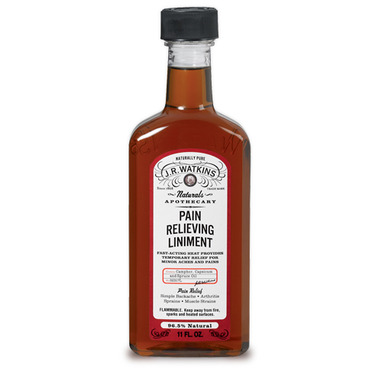 Description
The very first product sold by J.R. Watkins in 1868 continues to deliver natural pain relief. They've updated the product formula to remove all traces of artificial red colouring, making this one-of-a-kind pain reliever 96.5% natural. This quick-absorbing formula uses all-natural camphor and red pepper extract (capsicum) to stimulate nerve receptors that feel heat. This masks your feelings of pain to relieve minor muscle aches, soreness and stiffness.
Ice or heat? Neither is very convenient if you're on the move. Treat sore muscles with pain-relieving gels, balms, sprays, creams and liniments that you can use anywhere.
Wake up and smell the eucalyptus! Menthol camphor helps clear your sinuses and put a spring in your step.
Features:
Absorbs quickly for fast relief
Red Pepper Extract (capsicum) makes this a hotter formula – pat, don't rub!
Eco-friendly formula and packaging
Active Ingredient: Camphor 3.5% w/w.
Inactive Ingredients: Alcohol SD38B, caramel color, oleoresin capsicum, potassium carbonate, potassium cocoate, spruce oil, water.

Highlights

Shipping & Returns