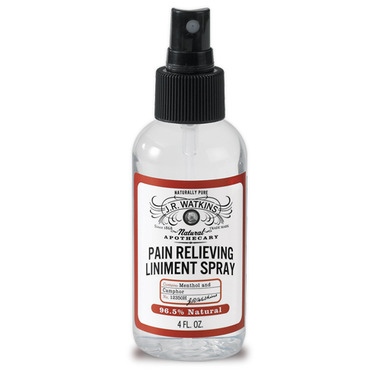 Description
Get quick relief from sore muscles, aches and arthritis pain with this convenient, fast-acting spray. The natural pain relieving properties of J.R. Watkins' Liniment are blended with the penetrating vapours of their Menthol Camphor Relief Mist to offer you quick relief when you need it. Sore muscles, aches and arthritis pain have met their match!
Ice or heat? Neither is very convenient if you're on the move. Treat sore muscles with pain-relieving gels, balms, sprays, creams and liniments that you can use anywhere.
Wake up and smell the eucalyptus! Menthol camphor helps clear your sinuses and put a spring in your step.
Features:
96.5% Natural
Perfect for hard-to-reach areas
All-natural menthol and camphor
Eco-friendly formula and packaging
Active Ingredients: Camphor 3.5% w/w, Menthol 2.5% w/w.
Inactive Ingredients: Alcohol SD38B (56%), eucalyptus globulus leaf oil, polysorbate 20, thymol, water.

Highlights

Shipping & Returns