Julian Bakery Devil's Food Cake Paleo Protein Bar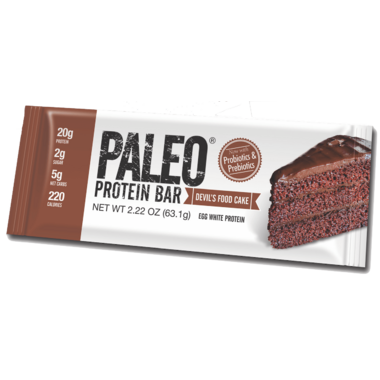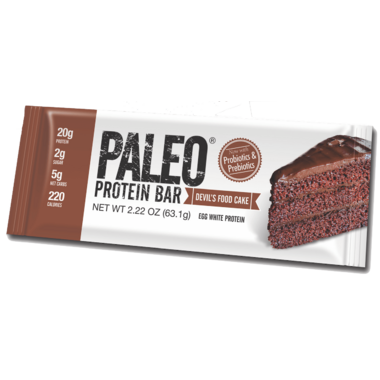 Julian Bakery Devil's Food Cake Paleo Protein Bar
This rich chocolate tasting bar (nut free) is the best tasting and best for you bar on the market. It's soft, creamy and uses organic prebiotic fiber & probiotics that improve digestion, curb appetite without bloating up to 4 hrs!
Features:
20g Egg White Protein (Vegetarian) No Added Sugar 1g (Monk Fruit Sweetened)
1 Bar= 170 Calories, Complete Protein Meal Replacement (Warm For 10 Sec For Fresh Brownie Experience)
Organic Prebiotics & Probiotics Improves Digestion, Curbs Appetite Up To 4 /hrs
New Stay Fresh Techonology Preserves Bars Up To 18 Months (Low Water Activity)
Made In A Dedicated Gluten Free Facility (5 Net Carbs) Kids & Adults Love! (GMO/Soy Free)
Ingredients:
Egg Whites (From Cage FREE USA Farms), Organic Prebiotic Fiber (From Tapioca), Organic Sunflower Seeds (Ground), Organic Cocoa Powder, Natural Chocolate Extract, Lou Han Guo (Monk Fruit), Produra™ (Bacillus Coagulans-Probiotic). CONTAINS: Eggs (Soy Free & GMO Free). Made In A Facility That Processed Tree Nuts.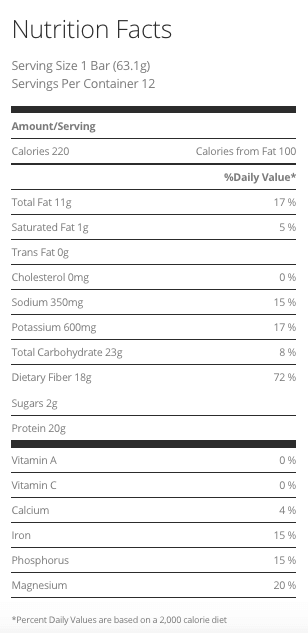 Kristen:
a few months ago
I tried several of the flavours from the same manufacturer and honestly they were all awful. Neither my daughter nor I could finish eating the bar. It tasted nothing like chocolate and the it left a horrible aftertaste in my mouth. I was hoping to find a less sweet, high protein and healthy alternative to a granola bar, but this is not the product.
Dee:
a few months ago
I tried several of these and this one is my favorite. It is a chewy bar, but once you chew it a bit it does have a flavor which reminds you of devil's food cake. It is a very pleasant bar to eat, and I like that it has Monk Fruit as the sweetener (only 1 gram - no added sweeteners). It is nice to have a chocolatey, sugary treat - which isn't. It satisfies the desire for that kind of thing, without the insulin shock of sugar or stevia (which, you know, also causes insulin secretion just like sugar does). If you want a low-sugar impact sweet treat with chocolate, well.. this sure fits that bill. It is an item I certainly will be ordering more of - hope you give one a try, too.
Page
1