Karen Pure Marine Phytoplankton Powder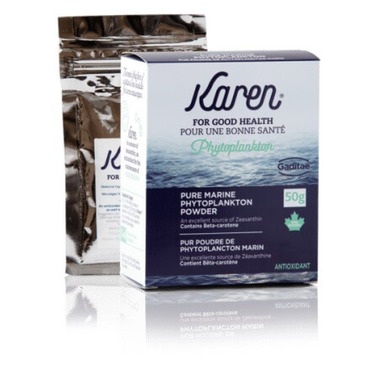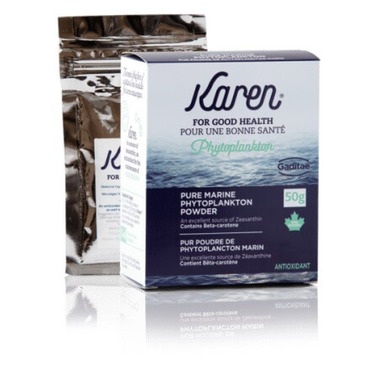 Karen Pure Marine Phytoplankton Powder
Karen is 100% pure, natural phytoplankton. It is an excellent source of Zeaxanthin, an antioxidant and contains Beta-Carotene. Tap into this ancient nutrition, the power of the ocean.

The 50g powder provides a 200 day supply.

Dosage:

Take 1 to 4 times daily. Mix half a scoop of the spoon provided in the packaging or 1/8 teaspoon (250mg) of Karen powder in 240ml (8 ounces) of water, smoothie, juice or preferred beverage.

TAKE KAREN WITH

We recommend taking Karen with water; however, it can be an acquired taste. Karen can be mixed with applesauce, yogurt or even juice, although, it should not be added to hot beverages or hot foods.

WHEN TO TAKE KAREN

The ideal time of day to consume our product is first thing in the morning, as increased energy is one of the most common reported benefits of Karen Marine Phytoplankton.

STORING KAREN

Follow the directions below for best results. When storing Karen, keep it tightly sealed in its original or other airtight container, at room temperature, and out of direct sunlight.

SCOOP

Use the spoon provided to measure your daily serving of Karen Phytoplankton powder.

MIX

Add the powder to 8 oz. (240ml) of water or juice and mix with a spoon or whisk.

DRINK

Enjoy your phytoplankton. If there is some residue, add more liquid and drink the rest.

NOT A FAN OF THE TASTE?

No worries…many things can be used to mask this flavor of the sea. Try yogurt, apple sauce, orange juice. Karen is also a great smoothie booster.