Kashi Seven Grain with Quinoa Honey Oat Flax Bars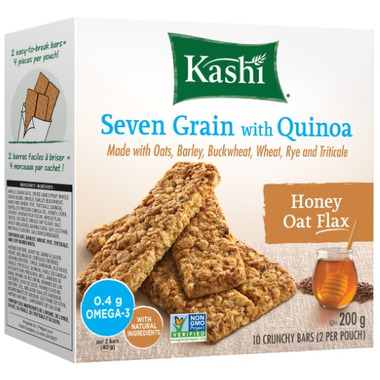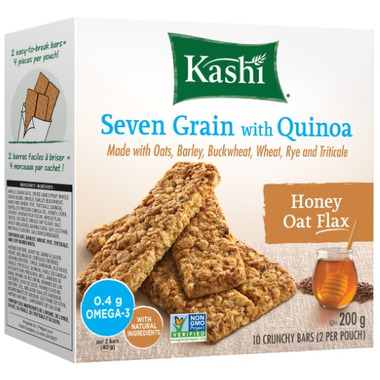 Kashi Seven Grain with Quinoa Honey Oat Flax Bars
These Seven Grain with Quinoa Honey Oat Flax Bars provide whole grains and fibre. These tasty bars can help make any snack attack subside.
Not only is this bar nutritious, made with honey, oat, flax and quinoa, but there's also a nice little bonus — these bars have the potential to help set you on a path of good eating, which then inspires other good decisions. And from there, the possibilities are endless.
Features:
3g of fibre per serving (40g)
0.4g omega-3 per serving (40g)
23g whole grains per serving (40g)
Ingredients
: Whole grain oats, dried cane syrup, whole grain blend (whole: barley, buckwheat, hard red wheat, rye, triticale, quinoa), expeller pressed canola oil, honey, corn starch, brown rice flour, whole flax seeds, coconut, whole oat flour, salt, fancy molasses, baking soda, soy lecithin, natural flavour, calcium carbonate.
Allergens:
Contains oat, barley, wheat, rye, triticale, and soy ingredients.