Kicking Horse Coffee Cliff Hanger Espresso Whole Bean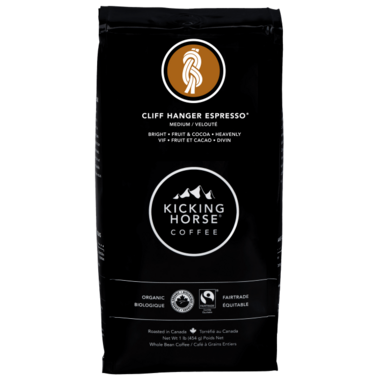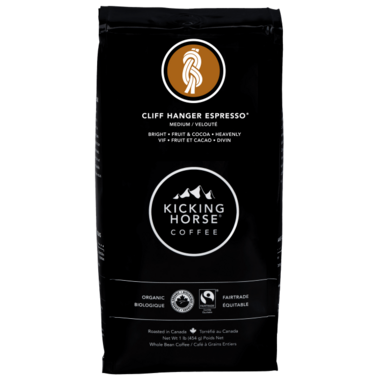 Kicking Horse Coffee Cliff Hanger Espresso Whole Bean
Cliff Hanger Espresso. Bright, Fruit & Cocoa, Heavenly.
The one that goes the extra mile. Hop on, hold on, and head for the hills.
Get a grip on this chocolaty, smooth blend. There's cocoa tones and a bold happy ending. Don't hang in suspense, this blend reads like a manifesto of delicious coffee. Beans are sourced from Africa, Indonesia, Central & South America and are certified fair trade, organic and kosher!

Aroma: Blackcurrant, milk chocolate and brown sugar.

Tasting Notes: Bright, Fruit & Cocoa, Heavenly

Note: It is important to store your coffee properly to keep it fresh. Keep at room temperature, sealed in an air-tight container. Avoid plastic containers as your coffee's flavor may be compromised. Once opened, expect to use your coffee beans within a 1 week to 2 week period.