Kienna Coffee Roasters Backpacker's Brew Coffee Pods
Extra Dark Roast
Box of 18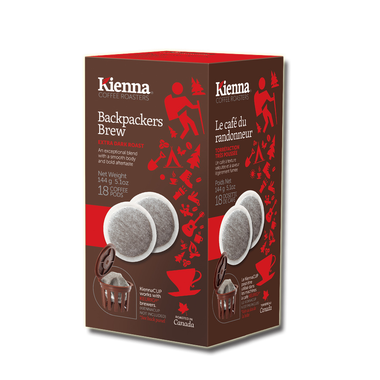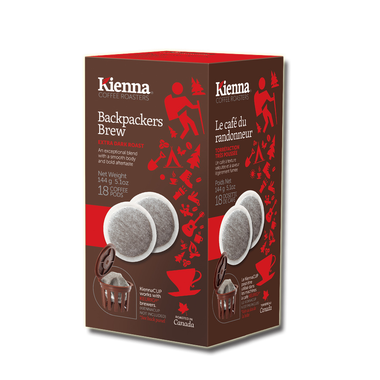 Kienna Coffee Roasters Backpacker's Brew Coffee Pods
Extra Dark Roast
Box of 18
An exceptional blend with a smooth body and bold aftertaste. These pods provide an environmentally friendly alternative to non-recyclable k-cups as their pods are 100% biodegradable. Choose Kienna and... "Make Coffee NOT Waste". Includes one box of 18 coffee pods.
For use with the
KiennaCUP Adapter
.

Deb:
a few months ago
I had never seen this coffee before and came across it in a local gift shop. I ended up buying two boxes on the shop owners recommendation and I'm glad I did. We have an old and new Keurig and the pods work perfectly in both. The Backpackers Brew is strong, just the way we like it. We will definitely be buying more.
Daniel:
about a year ago
Coffee is below average in taste and after taste, very plain and kind of "old" tasting. Will not be buying again. As for the pod You place it in, that is just useless, the Keurig 2.0 recognizes it as for a caraffe. So You'll need a label from a REAL pod to stick on this orange Kienna adapter for it to work.
Page
1