Kinnikinnick Panko Style Bread Crumbs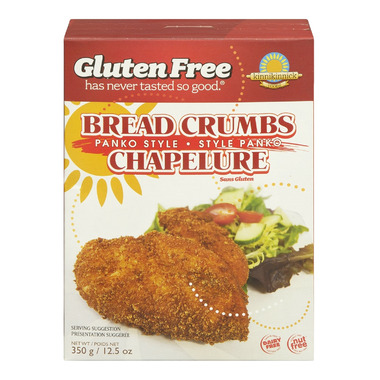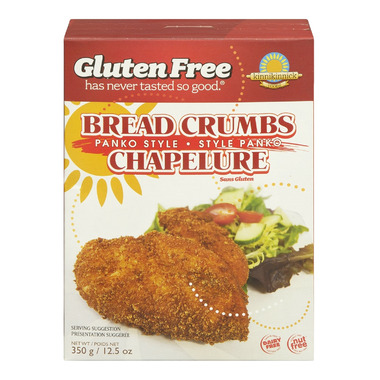 Kinnikinnick Panko Style Bread Crumbs
The ultimate bread crumb. Panko is perfect for coating chicken, pork, fish and vegetables. Even stays crispy the next day.
Features:
Free of wheat
Free of corn
Free of dairy
Free of soy
Free of nuts
Free of potato
Preparation Tips:
Kinnikinnick Panko crumbs are unseasoned so you can add whatever flavours and seasonings you like. Add your favourites like salt & pepper, parmesan cheese or garlic, parsley & oregano to the crumbs prior to applying to chicken (or other meat). When coating chicken for best results, flatten chicken to uniform thickness using a mallet, brush with olive oil then coat with Panko Style Bread Crumbs. Always check that your chicken is at 165°F (73°C) internal temperature before serving.
Pan-Fry Instructions:
Preheat 4 tbsp olive oil in a frying pan over medium heat.
Cook chicken 4-5 minutes per side until golden brown and cooked thoroughly.
Bake Instructions:
Preheat oven to 400°F (180°C).
For chicken breasts, bake for 30-35 minutes, adding 10-15 minutes if bone is in.
For chicken fingers and nuggets bake for 15-20 minutes.
Flip at half way point for crispier coating.
Ingredients:
Water, Tapioca Starch, Pea Starch, White Rice Flour, Sugar, Whole Egg Powder, Inulin, Sunflower and/or Canola Oil, Sodium Bicarbonate, Cellulose, Mono Calcium Phosphate, Pea Fibre, Cream of Tartar, Sodium Acid Pyrophosphate, Yeast, Salt, Xanthan Gum, Mono and Diglycerides.