Kleenex
Kleenex Everyday Facial Tissue Pocket Pack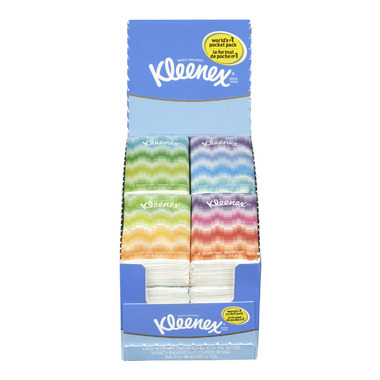 Kleenex
Kleenex Everyday Facial Tissue Pocket Pack
Kleenex Everyday Facial Tissue Pocket Pack
is rated out of
5
by
44
.
---
Description
Strong, soft and absorbent, Kleenex Everyday Tissues have been there for happy tears and stuffy noses since 1924. They're the perfect tissue to always have on hand.

This bundle of sixteen pocket packs includes an assortment of groovy designs like Caribbean, Hibiscus, Mango and Palm.


Shipping & Returns
Rated

1

out of

5
by
Exchef
from
Dangerous for Eyes
This product should have a warning label prominently displayed on the box. In 2019, I had Cancer removed from my right eye and subsequently also had chemotherapy. I purchased this box of Kleenex because it was packaged in a nice small, cube shaped box that fit well on the side table next to the chair that I normally sit in. After 2 years of slow improvement, the doctors couldn't figure out why my eye took such a turn for the worse, and ultimately had a large corneal erosion over a 6 week period. After using the last tissue in the box, and on my way to put it into recycling, I saw the small block letters under the Kleenex logo that said "ANTIVIRAL". When I looked it up on the Internet, I discovered that these tissues contain hash chemicals and citric acid. Every time I was trying to dry tears in my eye, I was putting acid and chemicals into it. Within 12 hours of not using this product, my eye was considerably better. This product is a bad idea and should be discontinued...or at least packaged with a very prominent warning label.
Date published: 2021-08-09
Rated

1

out of

5
by
pkgill15
from
I will begin by
I will begin by saying that these are not meant to be medical grade antiviral tissues, and in particular, they do not mention any coverage for COVID-19. Furthermore, these are meant to be used for the nasal passages, although I do find it concerning that their 'antiviral' layer of protection could actually damage the nasal passages and mucosa as the tissues cause a burning sensation. It would be the same as if you took an antiviral wipe meant for a hard surfaces and rubbed it into your face. Personally, I don't think that this is a good idea. I will give it a one out of five for the premise behind these tissues, but I wouldn't actually recommend trying these.
Date published: 2021-09-01
Rated

1

out of

5
by
Swiffer82
from
Burns Eyes & Nose- Beware
Kleenex officials say burning of 5he nose and eyes are not usual. I bought 5hem. My nose always runs so therefore I always have kleenex in all pockets, etc. First time I used my nose burned. I used on my watering eyes and my eyes burned as if I poured peroxide in them. There is only a warning on the bottom of the box. I'm so disappointed and shocked. You would think they would have a warning on top and/or side of box. Easier for customer to see. Considering actually switching brands after 50 years
Date published: 2021-03-25
Rated

1

out of

5
by
Terrip
from
Dust
I find any kleenex product has so much dust coming off it i gag and choke when blowing my nose.
Date published: 2020-11-13
Rated

1

out of

5
by
kelly86
from
If You Have Sensitive Skin...BEWARE!
My office has these tissues for staff to use, and in theory, it's a wonderful idea! I had been using them for about a week, and started to develop a rash on the right side of my nose. It is itchy, and very dry. I stopped using the tissues, and have been moisturizing the rash for about a week, but it still hasn't improved. Avoid these tissues and stick with a plain ol' tissue that doesn't contain harmful/harsh ingredients. I'd give this product ZERO stars if I could. Yuck!
Date published: 2020-08-31
Rated

3

out of

5
by
Kimsy
from
Graphics Changed Again?
Kleenex has always been a staple in this household. I guess some folks don't care if the colours match their surroundings but I for one do and have always been able to find something that works. Now all of your colours match with sweet lavender shadings and although I do love the colours I have no rooms to match. I always went for the browns, greys and blues before. I've been holding off buying more hoping to find some of the older boxes and may, I'm sad to say, purchase some other brand to coordinate with my home. Sorry Kleenex, you may have lost us.
Date published: 2016-12-03
Rated

5

out of

5
by
sangitha5
from
feels good
(This review was collected as part of a promotion.) The tissues are very strong and soft and its good for using daily usage. Its very comfortable to hold it in our hand.
Date published: 2015-10-14
Rated

1

out of

5
by
Lyteitup
from
Burned my Eyes and Nose... Sukz...
I bought these... Then when i used them... My nose really start burning... I thought that my minor cold I had was turning into a really bad cold throughout the day... Then my eyes started watering so I used to dry my eyes... and WOW!!!!!! They burned my eyes really bad... That is when I said to myself... Self? Why do these burn... ?? I ran to the bathroom and ran cold water over my eyes to flush them out... They burned for hours... Then I read the bottom of the box... NO warnings on the outside of box anywhere... Very disappointing... Ridiculous...
Date published: 2018-10-19