Kristin Ess Hair The One Signature Shampoo
Kristin Ess Hair The One Signature Shampoo
is rated out of
5
by
64
.
The shampoo for pretty much anyone. The best thing about this formula is it gets your hair super clean but also leaves it feeling moisturized and looking shiny. It's hard to find a shampoo, particularly a sulfate-free shampoo, that can do both so well.
Try with Kristin Ess Hair The One Signature Conditioner!

Contains Zip-Up Technology:
Kristin Ess' proprietary strengthening complex designed to help "zip-up" split ends while targeting weak areas of the hair, smoothing the appearance of damaged cuticles and helping to protect hair from environmental stressors and color fade.
Benefits:
For all hair types
Lightly clarifying

High lathering

Safe for daily use

Sulfate-free
Cruelty Free

Lather, rinse, repeat! You know the drill, right!?

1. Depending on the thickness of your hair, squeeze a dime to quarter-sized amount of shampoo into your palm.

2. Apply to wet hair, massaging into the scalp to create a rich lather.

3. Rinse clean and repeat if necessary.

Tip: If your hair is extra oily or has a lot of product in it, try shampooing twice!
Ingredients: Water, Sodium Cocoyl Isethionate, Sodium Methyl Cocoyl Taurate, Cocamidopropyl Betaine, Fragrance, Lauryl Lactyl Lactate, Sodium Chloride, Salvia Hispanica Seed Oil, Sargassum Filipendula Extract, Gelidiella Acerosa Extract, Litchi Chinensis Pericarp Extract, Hypnea Musciformis Extract, Algin, Carrageenan, Coco-Glucoside, Hydrolyzed Keratin, Xanthan Gum, Chitosan, Sorbitol, Coconut Acid, Glycerin, PEG-200 Hydrogenated Glyceryl Palmate, PEG-7 Glyceryl Cocoate, Sodium Isethionate, Glycol Stearate, Glyceryl Stearate, PEG-100 Stearate, Cetearamidoethyldiethonium Succinoyl Hydrolyzed Pea Protein, Guar Hydroxypropyltrimonium Chloride, Caprylic/Capric Triglyceride, Citric Acid, Methylchloroisothiazolinone, Methylisothiazolinone.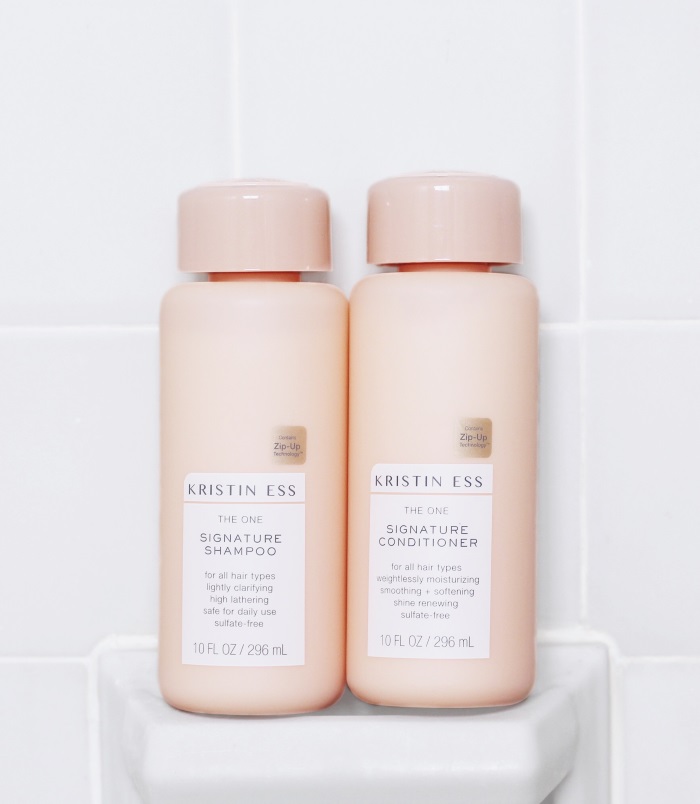 Other Kristin Ess Hair Products
Rated

5

out of

5
by
Dawn
from
I normally use a high end shampoo that costs $40/bottle I have used this particular shampoo for years I decided to try the Kristen Ess shampoo as we were going away on a houseboat trip. I was more than pleasantly surprised. The shampoo was volumizing, did not weigh my hair down at all and it still felt clean after 2-3 days I have continued to use it at home and even talked a customer with two teenage daughters out of buying a more expensive shampoo at Sephora because I was so impressed with this one! I'm looking forward to trying more products from this line of hair care. I'm picky and hard to please but this was a winner.
Date published: 2018-06-01
Rated

5

out of

5
by
Kasandra
from
I've been a fan of Kristin Ess for years. I was really excited when I found out her products were available on this site. After over a month of use, I can say I love this shampoo! I've had issues with more expensive shampoos weighing my hair down, but not with this one! My hair is so soft and silky. I'm not a huge fan of the smell (my best friend said it smells like old people haha). I wish it was a lighter scent, but I got used to it. For the price, this will definitely become part of my routine.
Date published: 2019-02-07
Rated

5

out of

5
by
Lara
from
I am obsessed! I purchased this shampoo along with the purple shampoo and the signature conditioner. My hair is transformed, it hasn't looked or felt this good in a long time... well as long as its been blonde. I'm not brassy anymore, I was able to push back my trim by a few weeks because it literally zipped up my ends after a week of use. The scent is strong but I'm a fan, it reminds me of the smell of the Mirage Hotel in Las Vegas (because all the hotels are scented differently if you didn't know). I hope well.ca can keep this line in stock because I will be ordering it regularly.
Date published: 2019-12-21
Rated

1

out of

5
by
Britcorm
from
Such a Mistake
This was one of my biggest mistakes haircare wise in a while. I saw the reviews about the scent and blew them off. I had worked in a heavily fragranced retail environment for 5 years and figured I could take whatever this shampoo was dishing out fragrance wise. NOPE! Holy moly does this scent linger. And it's in the purple shampoo and conditioner line too. I had to give it away. Such a major waste. Another issue beside the scent was that it was also just not a good product. I don't know where it gets off saying that it is moisturizing but it dried my hair out something awful. Some of the worst hair days I've ever had. The only thing I liked about this product was the luxurious lather it has.
Date published: 2021-04-04
Rated

5

out of

5
by
Lyly
from
Love it!
I never used anything like that before! I am very impress with this product and especially with the price. My hair still feels really clean after 4 days (no dry shampoo needed). The thing I noticed is that after I rinse it, my hair are tangled free and very smooth. Some people don't like the scent but personally I reallyyy love it!
Date published: 2020-05-23
Rated

5

out of

5
by
awabear
from
Hair feels great!
I've been having a hard time with shampoos postpartum and this shampoo and conditioner are great! They leave my hair nice and soft and light feeling.
Date published: 2020-11-03
Rated

1

out of

5
by
Nicki
from
Cleans my hair, but that's about where the enjoyment stops. I use it once in a blue moon as a clarifying shampoo, as I find it incredibly drying, and the conditioner isn't much better, it not does it add any moisture. And as others say, the scent is HORRIBLE, I'd say just as bad and grandma like as shimmer lights. I've heard all the hype, so I thought I'd try and replace my brio....(cough-cough), but no way does it measure up, I'll stick with the big guns.
Date published: 2019-05-30
Rated

2

out of

5
by
Andrea
from
I wanted to love this shampoo/conditioner combo with all 5 star reviews. Sadly, they just feel cheap, very similar to those no name brand shampoos and conditioners that come free in a hotel room. Ironic, one reviewer mentioned it smells like a Vegas hotel. It does have quite a strong smell. A bit like aftershave. Again, not something I want on my hair. The scent/smell though does not bother me as much as the feeling that my scalp and hair do not feel clean even after 3 rinses. It does not foam. Unfortunately I bought them a while back and only started using them. Otherwise I would return it. If you're still intent on buying it, I would recommend trying the travel size. This is by no means salon level shampoo/conditioner and so that makes it expensive at this price point. I debated between 2 and 3 stars but it's really not a middle of the road review. I would not recommend this to a friend and would return it if I could.
Date published: 2020-01-07