La Tourangelle Roasted Walnut Oil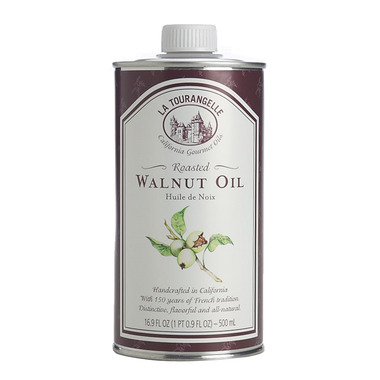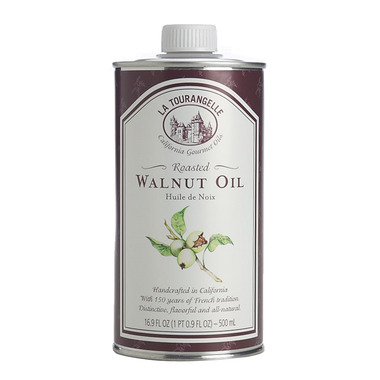 La Tourangelle Roasted Walnut Oil
La Tourangelle handcrafts this Roasted Walnut Oil in Woodland, California strictly following the 150-year-old traditional methods of its French sister oil mill. Slowly roasted to perfection, expeller-pressed and lightly filtered, this oil adds a rich walnut taste to salad dressing, pasta, grilled meat or fish, baked pastries, and is perfect to dip with bread.

Health Benefits: La Tourangelle Roasted Walnut Oil is a rich source of omega 3 (1.4g per 1 Tbs.), which can help to prevent cardiovascular disease while acting as a counterweight to bad cholesterol. Since the oil is not refined, it also has a very high level of natural antioxidants. Walnut oil contains 72% polyunsaturated fat by content: 60% linolenic acid and 12% alpha-linolenic acid.

Usage: Walnut oil is a delicious and easy-to-use oil. In salads, walnut oil mixes very well with balsamic vinegar or red wine vinegar to create a simple but flavourful vinaigrette. Also try it with tarragon white vinegar. It is delicious on grilled fish or meat: A dab of walnut oil is the perfect touch for enhancing flavours and easing digestion when added towards the end of your beef bourguignon or meat dishes. You can also try it in pasta with cheese. Don't hesitate to use it in cakes and baked goods, particularly with apples or pears.

Storage: Refrigerate after opening.

Temperature: Suitable for medium-high heat: Perfect for sautéing, baking, dipping, blending into a dressing/sauce, or drizzling on a finished dish. Smoke point 375ºF.

Ingredients: 100% pure roasted walnut oil.

Shelf Life: Unopened: 24-month shelf life. Opened: best used within 6 months.