Lactaid
Lactaid Extra Strength Tablets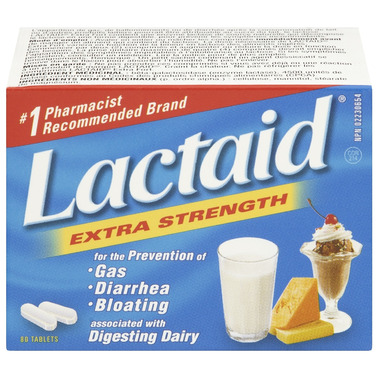 Lactaid
Lactaid Extra Strength Tablets
Description
If you get gas, bloating or diarrhea from milk or other dairy foods, it could be due to the milk sugar, lactose. Extra Strength LACTAID® Tablets contain lactase enzyme that breaks down the lactose into easily digested sugars to prevent uncomfortable symptoms.
Each Extra Strength LACTAID® Tablet contains 4500 Food Chemical Codex Lactase Units (FCCLU).
Directions: Swallow or chew tablets just before eating any food containing lactose. The amount of Extra Strength LACTAID® you need depends on the amount of lactose in the food you eat. Start with 2 tablets and adjust up or down to find your own personal requirement. Four (4) tablets at any one time should prevent the symptoms caused by lactose intolerance. If symptoms persist, consult a doctor.
Shipping & Returns
Unfortunately, due to the nature of this item, we cannot accept any returns.
We are only able to ship this item to Canadian customers.
Click here for more information