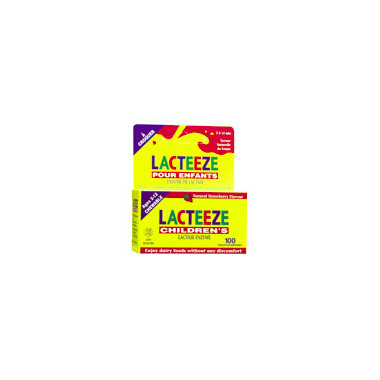 100 tablets
Lacteeze Childrens Tablets
is rated out of
5
by
9
.
---
Description
Chewable tablets with natural strawberry flavouring will naturally relace your child's supply of lactase enzyme when taken just before eating dairy foods enabling dairy to become more easily digestible. Specifically formulated for chilren between the ages of 2-12.
Each tablet contains: 3000 FCC lactase units, dextrose, microcrytalline cellulose, calmcium stearate, strawberry fruit crystals, citric acid, natural flavours and natural colour.
Shipping & Returns
Unfortunately, due to the nature of this item, we cannot accept any returns.
We are only able to ship this item to Canadian customers.
Click here for more information
Rated

5

out of

5
by
Super happy!
from
These are just awesome!! Our little guy (19.5mos) was diagnosed as lactose intolerant & we were to cut him off ALL milk - drinking milk, yogurts, cheese, ice cream, etc etc etc - even minute amounts in chicken nuggets' breading was enough to set him off! Tried these chew tabs & he's been PERFECT!!! Can't believe it!! We tried cutting him off, but he'd just cry for his milk! He's super happy & super healthy, now! What more could we ask for?! These aren't the softest chew tabs out there, but he LOVES them! 5 stars!!!
Date published: 2010-08-31
Rated

5

out of

5
by
KC
from
Great product! Small in size. Easily chewable. Easy to carry around. Kids have no troubles wanting to use these. Will buy again.
Date published: 2012-08-03
Rated

5

out of

5
by
Helen
from
I'm an adult and I use these instead of the regular Extra Strength Lacteeze...purely because the other ones, although 'chewable', are a nasty mint taste (and who wants a nasty mint-talc taste in their mouth before eating something sweet and milky?). This one tastes great, not too powdery when chewing and work fine with my regular coffee :)
Date published: 2012-04-13
Rated

5

out of

5
by
Lynn
from
I got these for my daughter and she absolutely loves them. They have a pleasant fruity taste and are easily chewed. Two tabs seem to do the trick for ice cream or a glass of milk and my daughter has never had an upset stomach after eating dairy with these. Highly recommend for kids who won't take pills.
Date published: 2009-06-30
Rated

5

out of

5
by
Chris
from
Just like the other reviewer (Helen) said. The Strawberry flavoured Children's Lacteeze is perfect! Way better than the Adult minty flavoured one! Always have at least 2 bottles on hand!
Date published: 2018-09-05
Rated

5

out of

5
by
Jody
from
My daughter takes these no problem and they work well. She's very picky with textures and tastes and this is something she can easily tolerate. Small. Good flavour.
Date published: 2019-12-05
Rated

5

out of

5
by
Leslie
from
My daughter likes taking them and they are easy to carry around. I also take them to the school as well for her lunches.
Date published: 2018-08-30
Rated

5

out of

5
by
Jennifer
from
These work great - always try to have at least 2 bottles on hand and 1 in my purse for when we are out.
Date published: 2012-07-16