Lakota
Lakota Extra Strength Joint Care Topical Soft Touch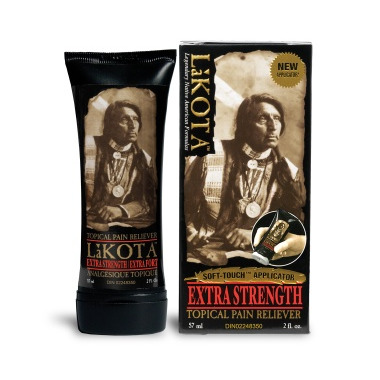 Lakota
Lakota Extra Strength Joint Care Topical Soft Touch
Description
LaKota's ongoing committment to providing Arthritis sufferers with effective easy to use products has provided a break through in topical application. Laktoa's patented Soft-Touch applicator is made of soft foam allowing the pain relieving gel to be massaged gently into swollen and tender joints.
Tough on pain! The Lakota Extra Strength is powerful medicine. With an extra potent dose of proprietary capsaicin extract this formula takes pain relief to the maximum. Rub it in and feel soothing relief for hours. Use sparingly- Extra Strength is a powerful topical pain reliever!
Medicinal Ingredients (w/w):
Menthol 3%
Capsaicin 0.035%

Non-medicinal ingredients: Purified water, carbomer (Ultrez 10), germaben II, Ethyl Alcohol, Triethanolamine.
Should you require consultation with a pharmacist, you may contact our Well.ca Pharmacist. Please read the label, warnings and inserts provided by the manufacturer and consult your healthcare professional when purchasing medications or natural health products to be sure the product is right for you.
Highlights

Shipping & Returns
Unfortunately, due to the nature of this item, we cannot accept any returns.
We are only able to ship this item to Canadian customers.
This item cannot be shipped to Quebec due to provincial pharmacy regulations.
Click here for more information