Land Art
Land Art Aloe Vera Pure Juice
Pomegranate Flavour 1500 mL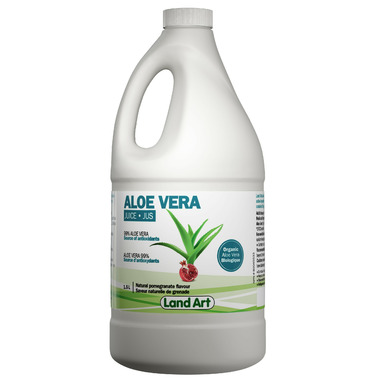 Pomegranate Flavour
1500 mL
---
Description
This pure biological source juice does not contain sugar or glycerol. Aloe vera is rich in amino acids, digestive enzymes, minerals and vitamins.
Land Art's Aloe Vera Juice provides a superior intake of polysaccharides, active ingredients with antioxidant and revitalizing powers. Each portion of 60 ml contains 99.5% of pure Aloe Vera (providing 60 mg polysaccharides)
Directions:
Take 60 to 120 ml per day.
Ingredients:
Aloe inner fillet juice (purified water, concentrated organic aloe OTCO certified), natural pomegranate flavor, potassium sorbate, sodium benzoate, citric acid, stevia.
Contains no dairy, wheat, gluten, yeast or corn.
Highlights

Shipping & Returns