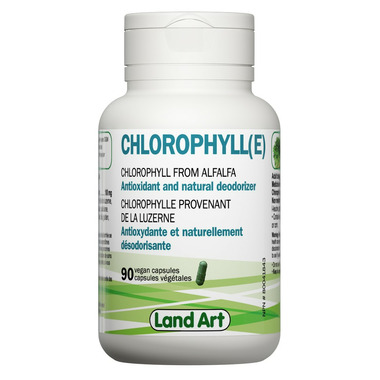 Description
​
Land Art's chlorophyll contributes to the purification of the blood by oxygenating red blood cells and helping your body to release toxins. Chlorophyll also helps to alkalinize and deodorize the body. Land Art's chlorophyll is extracted from alfalfa and dosed 100 mg per capsule.
Land Art Chlorophyll capsules are suitable for vegans.
Directions: Adults: 1 capsule, 2 times a day.
Medicinal Ingredients (per capsule):
Chlorophyll, (copper chlorophyllin) … 100 mg
Non-Medicinal Ingredients: Alfalfa powder (medicago sativa) leaves and stems, leucine. Contains no preserving agent, dairy, wheat, gluten, yeast or corn.
Cautions: May cause discolouration of urine or feces. Consult a health care practitioner prior to use if you are pregnant, breastfeeding or expect to be pregnant.
Highlights

Shipping & Returns