Land Art
Land Art Chlorophyll Eucalyptus Liquid
Eucalyptus Flavour 500 mL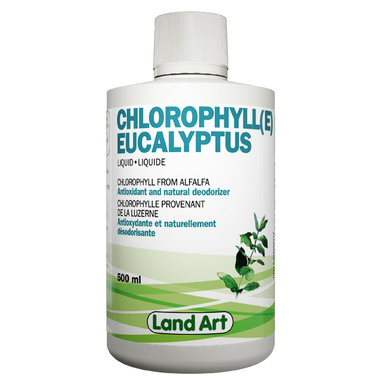 Land Art
Land Art Chlorophyll Eucalyptus Liquid
Eucalyptus Flavour
500 mL
---
Description
Land Art's chlorophyll is extracted from alfalfa and has numerous properties, including the purification of the blood by oxygenating red blood cells and helping the system to release toxins. This product also helps to alkalinize and deodorize the body.
Diluted in a glass of water, chlorophyll apple is the healthiest purifying drink. You can also take it plain in higher concentration.
Directions:
1 tablespoon (15 mL), two times daily, in a glass of water.
Medicinal Ingredients (per 15 mL
):
Chlorophyllin Copper Complex Sodium (chlorophyll) ... 54 mg
Non-Medicinal Ingredients:
Purified water, vegetable glycerin, eucalyptus oil.
Contains no preserving agent, dairy, wheat, gluten, yeast or corn.Cautions:
Handle with care, product may stain clothes or surfaces. Consult a health care practitioner prior to use if you are pregnant, breastfeeding or expect to be pregnant.
Highlights

Shipping & Returns