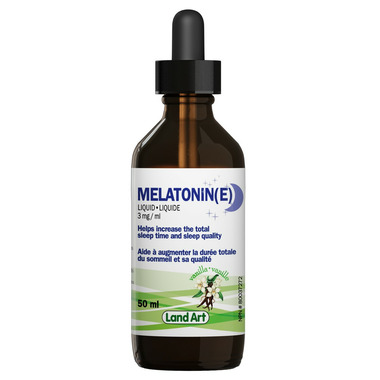 Description
Melatonin is also known as the "sleep hormone". Inhibited by light, its secretion is stimulated by darkness and it then sends a signal to the brain that it is time to sleep.
Melatonin helps increase total sleep time and its quality. It is ideal for:
People who are light sleepers
Elderly people (Melatonin secretion reduces with aging)
Situations where there is too much light coming through the sleeping place (city lights, day sleep)
Sleep disturbances due to variable schedule, rotating shifts, night shifts
Sleep disturbances due to jet lag
Directions:
Adults take 1 ml per day at bedtime.
Medicinal Ingredients:
Non-Medicinal Ingredients:
Purified water, natural vanilla flavour, malic acid, stevia, sodium benzoate, potassium sorbate.
Contains no dairy, wheat, gluten, yeast or corn.
Highlights

Shipping & Returns