Land Art Omega 3 Cold Pressed Oil Softgels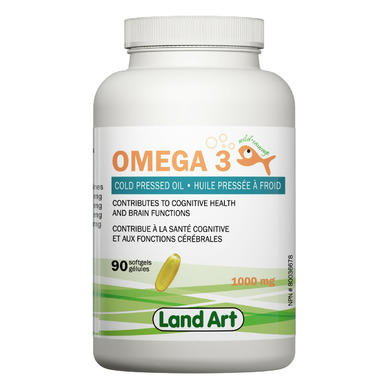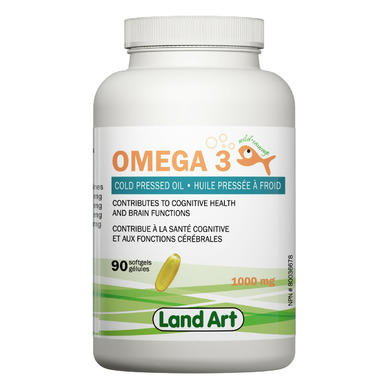 Land Art Omega 3 Cold Pressed Oil Softgels
​
Essential fatty acids should take up approximately 5% of your daily caloric intake. For a healthy person whose daily caloric intake is around 2700 calories, this translates to approximately 1.5 grams of Omega 3, at least 500 mg of EPA/DHA per day. Although these quantities may seem easy to attain, the current consumption of essential fatty acids in developed countries is well below this minimum. Supplements are therefore recommended
Land Art's Omega 3 is a great choice from which to obtain your daily essential fatty acids. It contains EPA/DHA natural dosage (18%/12%) with no preservatives and no fishy after taste. Land Art gets its fish from which these oils are obtained from the North Sea (Iceland).
Health Benefits:
Helps maintain cognitive health and cerebral functions

Lowers certain risk factors for cardiovascular disease and reduces the risk of repetitive infarction

Contributes to the development of the brain, eyes and nerves in children and in teens

For pregnant women, favours the development of the foetus' neurological system

May have an impact on mood swings and reduce symptoms of depression
Directions: Children 1 to 13 years old: 1 softgel 2 times daily. Adolescents and adults: 2 softgels 2 times daily
Medicinal Ingredients:
Fish oil (18% EPA, 12% DHA)… 500 mg

From anchovy, sardines and mackerel

Total omega-3 fatty acids … 150 mg

EPA (eicosapentaenoic acid) … 90 mg

DHA (docosahexaenoic acid) … 60 mg
Non-Medicinal Ingredients: Gelatin, vegetable glycerin, purified water. Contains no preserving agent, dairy, wheat, gluten, yeast, corn or sodium.