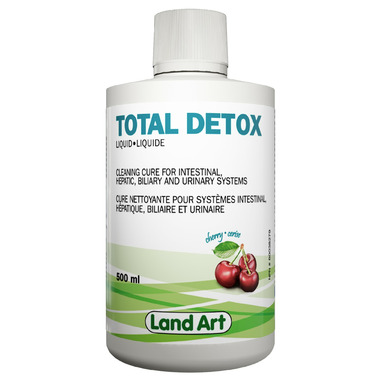 Description
Land Art Total Detox is a mild detoxication cure composed of 8 medicinal plants. These botanical extracts stimulate detoxication of the intestinal, hepatic, biliary and urinary systems. Total Detox helps digestion and the elimination of wastes through its diuretic, laxative and depurative actions. This product is a nutritive and energizing purifier and contributes to ridding the system of toxins.

Health Benefits:
Diurectic

Digestive aid

Purifies the blood

Promote a healthy liver
Directions: Adults: 1 tablespoon (15 ml) 3 times per day.
During the Detox: Begin with small doses to assure a smooth detoxification. 1 tablespoon (15 ml) per day can be enough for the first 3 or 4 days. Then, increase the dose up to 2 tablespoon (30 ml) per day. Continue the cure until you finish the bottle. Lighten your diet as much as possible, maximize your intake of fruits and vegetables and drink a lot of water. During the cure, your body will work hard to eliminate toxins so you might feel a slight energy drop. To compensate, try taking Land Art Multivit Liquid at the same time.
After the Detox: Drink a lot of water everyday. Even better, add in some Land Art Chlorophyll. It can help you reduce body acidity and keep a purified system.
Medicinal Ingredients (per 15 mL):
Sacred bark tree (Rhamnus purschiana)(Extract 1:40) … 140 mg

Dandelion, root (Taraxacum officinalis)(Extract 1:6) … 900 mg

Burdock, root (Artium lappa)(Extract 1:55) … 100 mg

Boldo, leaf (Peumus boldus)(Extract 1:18) … 300 mg

Milk-Thistle, fruit (Silybum marianum)(Extract 1:5) … 800 mg

Aloe Vera, leaves juice (Aloe barbadensis)(Extract 10:1) … 200 mg

Artichoke, leaf (Cynara scolymus L.)(Extract 1:55) … 100 mg

Indian Rhubarb, root (Rheum palmatum)(Extract 1:28) … 200 mg
Non-Medicinal Ingredients: Purified water, vegetable glycerin, citric acid, natural flavor, sodium benzoate, potassium sorbate. Contains no dairy, wheat, gluten, yeast or corn.
Cautions: Consult a health care professional prior to use if you have gallstones.Consult a health care professional if symptoms persists.Reduce dose or discontinue use if spasms and/or pain occur, or if hypersensitivity occurs such as contact dermatitis.
Highlights

Shipping & Returns