Lee's Ghee
Lee's Ghee Plain Jane All-Purpose
Organic Clarified Butter 105 g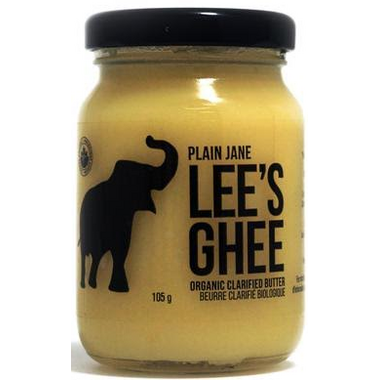 Organic Clarified Butter
105 g
---
Description
Ghee is a type of clarified butter. What this means is that regular butter is melted down to separate the milk components from the butterfat. The butterfat, which has floated to the surface, is then skimmed off and made into clarified butter. Lee's classic ghee designed for everyday use. Use as a heat stable cooking fat for sautéing, frying and roasting up to 250° C.
Features:
Certified Organic
Lactose Free
Higher Smoke Point than butter
Longer shelf life than butter
Ingredients:
organic clarified butter (milk)

*Refrigerate After Opening
Highlights

Shipping & Returns
Unfortunately, due to the nature of this item, we cannot accept any returns.
This product cannot be shipped to Remote locations.
Click here for more information