Lily Of The Desert Aloe Herbal Detox Formula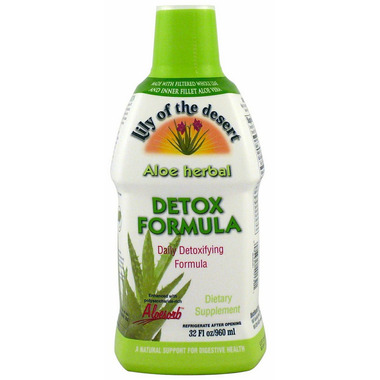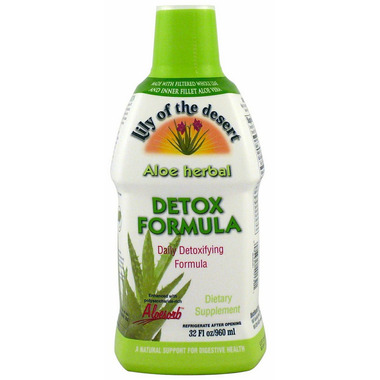 Lily Of The Desert Aloe Herbal Detox Formula
Help improve nutrient absorption with a safe daily detoxifier! Lily of the Desert's Aloe Herbal Detox Formula is a special blend of certified organic aloe vera and trusted herbs that has been clinically proven to reduce ammonias & cell nitrate levels by 11%. This Detox Formula has been known to work well for occasional bouts of constipation.
Aloe vera contains over 200 biologically-active components including polysaccharides, essential amino acids, vitamins, minerals and enzymes that help keep your body healthy. Made in the U.S.A.

Features:
80% organic ingredients
Organic Herbal Blend includes: Spearmint Leaf, Milk Thistle Seeds, Echinacea Leaf, Burdock Root, Dandelion Leaf, Green Tea Leaf, Red Clover Blossoms, Blue Cohost Root, Buckthorn Bark and Slippery Elm Bark
No water needed
Bottled in BPA-free Plastic Containers
Health Benefits:
Reduce harmful toxins
Promotes further cleansing of waste from the colon
Support healthy digestion
Assists in cleansing and soothing an upset stomach
Maintains healthy regularity
Increase absorption of nutrients
Supports healthy liver, gallbladders and urinary tract function

Suggested Use: Before opening, shake bottle well. Take 2 ounces (4 Tbsp) alone or mixed with a favorite juice. Up to 8 ounces daily. Refrigerate after opening. Recommended to consume within 5-6 months.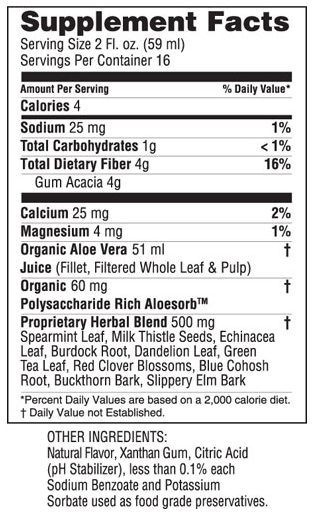 Lynnie:
about a year ago
The order of 2 bottles shipped quickly, in an appropriate size box with a sticker that said "liquid keep this side up". The bottles were in individual clear plastic bags with a good seal and had paper inside the box to keep stable. Every time I bought these at the health food store the outside seal of the bottles (the part that keeps the measuring cup attached) were often cracked or broken revealing the cap that had a foil seal; but when I order d from well.ca it was so well packed that it was perfect.
The aloe Vera detox is amazing, it does wonders and i will continue to buy it from well.ca.

Oh and very nice touch for the hand written thank you and smiley face on the packing slip!
Page
1