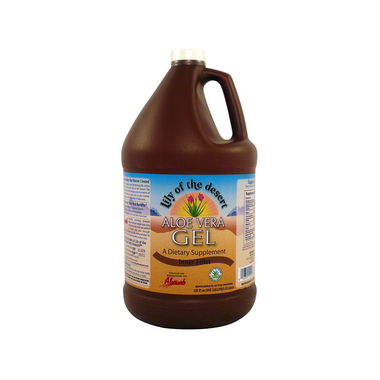 Description
Drink to your health! Our aloe vera gels contain the same 200 biologically-active components as our juices, but have a thicker consistency than the juice. Some consumers find this thicker consistency to have a "soothing" effect. The juices and gels have the same beneficial polysaccharides, essential amino acids, vitamins, minerals and enzymes. Just pick a consistency that you like best!
Features:
Support healthy digestion




Support a healthy immune system




Reduce harmful toxins




Increase absorption of nutrients




Enhance antioxidant support




Balance stomach acidity naturally




Soothe occasional muscle and joint discomfort



Directions:
Drink 2 to 8 ounces per day as a refreshing beverage.
Ingredients: Inner fillet Gel, Organic Polysaccharide Rich Aloesorb, carrageenan, Citric Acid (ph Stabilizer), Potassium Sorbate (mold inhibitor), Sodium Benzoate.


Does Not Contain:
Additional sugar, starch, or water.
Consumer Notice:
This product is a natural product; therefore the colour may change slightly due to seasonal variations without effecting purity, efficacy, or quality.
Highlights

Shipping & Returns