Lily of the Desert
Lily Of The Desert Aloe Vera Juice Inner Fillet
Preservative Free 3800 mL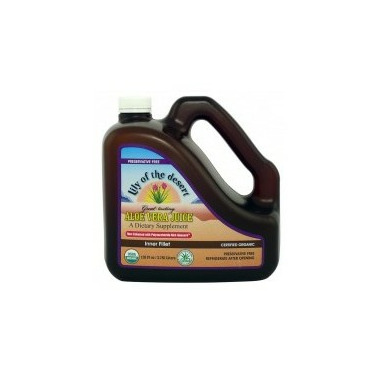 Preservative Free
3800 mL
---
Description
The Preservative Free Aloe Vera Juice products with Aloesorb™ has been clinically demonstrated to improve the efficacy and vast health benefits of aloe vera including: increased absorption/bioavailability of vitamins and nutrients, increased immune support, enhanced antioxidant support, and reduction of nitrate levels. This juice contains the full range of health benefits found in Lily of the Desert aloe vera products while not having the preservatives. Without preservatives, the juices have a cleaner, and lighter taste. Other benefits consumers enjoy in Lily of the Desert aloe vera products include: support of a healthy digestive system, help in sustaining and promoting healthy regularity, and help supporting normal muscle and joint functions.
Directions: Drink 2 ounces per day or as needed.
Ingredients: Aloe Barbadensis gel (inner leaf gel), Aloe gel (inner leaf gel), Organic Polysaccharide Rich Aloesorb. Citric Acid (ph Stabilizer)


Does Not Contain
: Additional sugar, starch, or water.
Consumer Notice
: This product is a natural product; therefore the color may change slightly due to seasonal variations without effecting purity, efficacy, or quality. Refrigerate immediately after opening.
Highlights

Shipping & Returns