LITTLE Bot Ofie Mat Oracle + Zen Line
LITTLE Bot Ofie Mat Oracle + Zen Line
is rated out of
5
by
5
.

Ofie mat is Little Bot's 2nd generation play mat. It's made of memory foam material and offers a soft and squishy feeling. Ofie mat is non-toxic and safe for babies. It comes with a few neutrally designed patterns that include zen line, triangle, oracle and country road. Ofie mat can be easily wiped clean with baby wipe or damp cloth and can be easily rolled up for storage. Ofie mat provides safe and cushioned space for babies to play in their early age. The beautifully designed mat also highly versatile and durable. Ideal for yoga, outdoor activities and anywhere in between a comfy floor mat is needed!
Features:
Beautifully designed floor mat for the next level of home comfort. Soft to the touch, easy to clean and pets friendly.
Ofie mat is a large single-foam mat that has reversible sides. Designed with a keen eye for detail, this shows how they believe home décor should be – simple, with a fun little twist (Little Bot playmats featured in New York Magazine and Design Milk).
It's a safe and non-toxic play mat for babies and families. Their play mats are made from some of the best foam materials that are both safe and durable, and as fellow parents, they understand just how much safety and quality means to you.
Little Bot play mats are tested in U.S. certified labs. They are free of heavy metals, BPA, Lead, Formaldehyde, Phthalate or fire retardant. There is no PVC or EVA foam in their play mats.
They are super easy to clean and are vacuum safe. They can also be rolled up for storage when not in use.
Dimensions: 2 m x 1.4 m (6.5 ft x 4.5 ft) and 1.5 cm thick (0.6 inch)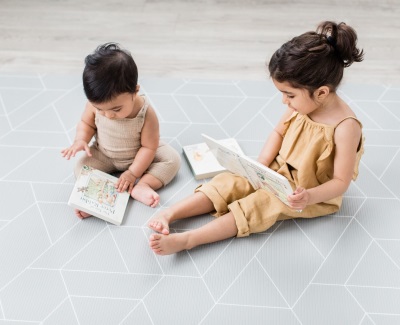 Play Unravel the Fun with the Ofie Mat on Youtbe
Play Home Comfort with the Ofie Mat on Youtbe
Play Time with the Ofie Mat on Youtube
Play Tummy Time With The Ofie Mat on Youtbe
Play Little Moments With The Ofie Mat on Youtube
Similar Playmats, Bouncers & Floor Seats
Other LITTLE Bot Products
Rated

4

out of

5
by
Alzira
from
We purchased this mat for our newly renovated home. The timing also coincided with our little one being able to sit on her own and play with her toys. I love the mature look of the mat, almost "rug-like", unlike most of the other kiddie play mats. It matches her living room decor so much better! It is so soft and supportive that I almost fell asleep on it while playing with the baby. I only give it 4 stars as it is a little smaller than I was hoping for. Despite the given dimensions, somehow I was still envisioning it to be bigger and it would be perfect for us if it was just a tad bigger.
Date published: 2019-09-24
Rated

1

out of

5
by
Spak
from
Disappointed
Bought this product based on quality, durability and excellent reviews. Also, personally know people with this product and LOVED it. Been using this mat approximately 3 months. Love the cushion it provides but extremely disappointed in the area of quality and durability. There is a tear and two small punctures noted, with no obvious know reason how it happened. Such a big expense to tear in such a short time with minimal use. For that reason, I can only rate this 1 star and cannot recommend at this time.
Date published: 2021-04-08
Rated

5

out of

5
by
christine213
from
Cushiony and stylish
We love this mat for our 8 month old who is learning to crawl. It's surprisingly soft and comfortable to sit and lay on, and I don't feel worried about him tipping over and hitting his head, which was not the case when we were using foam tiles. It's nice and large, feels like it is quality material, and it looks good in our living room.
Date published: 2020-02-11
Rated

5

out of

5
by
Mik58
from
Great quality and very comfortable!
Love this play mat! Got it intending for it to help with noise for our tenant below us as my little guy plays and was pleasantly surprised at how thick and comfortable this mat is. We have hardwood floors throughout the house and now I want to fill the house with these!! :) Love that it's non toxic too.
Date published: 2021-01-12
Rated

5

out of

5
by
Christine
from
Nice soft mat
Love this mat! We needed more play space for my 4-month old amongst all of our tile and hardwood. It's nice and cushioned, and the design is so pretty. It doesn't have any smell either, and really does seem non-toxic. Definitely worth the splurge.
Date published: 2020-03-04