Living Alchemy Your Flora Comfort
Bloating & Gas
60 Capsules



Please be advised that Well.ca follows manufacturer guidelines for storing & shipping probiotics.
Your Flora COMFORT combines our fermented 35 strain Symbiotic with organic chamomile and fennel seed specifically for those requiring gut flora support with digestive gas and bloating or cramping.
An imbalance of digestive microflora can cause gas and bloating. Kefi-Soy™ helps create a natural harmony of microflora in the digestive tract by providing an optimal amount of micro-organisms within their own environment. This is the most productive way to create this balance and support digestive comfort.
Features:

Digestive Gas & Bloating or CrampingOne Complete Digestive Solution: Your Flora Symbiotics
Provides Probiotics, Prebiotics, Digestive Enzymes & Nutrients
35 Strain Kefir-Kombucha Fermentation
Proven 80% Survival of Microbes
Fermented Whole Foods Plus Herbs
100% Plant Based Probiotic
Rich in Enzymes & Digestive Nutrients
Superior Bio-Availability
Certified Organic, Non-GMO, 100% Natural Whole Food Supplement
Vegan, Gluten and Dairy Free
Made in Canada
Formulated by a Qualified Nutritional Therapist
Free of from excipients, binders, additives, and any artificial ingredients or chemicals at every stage of manufacture
Directions: Adults: Take 1-3 capsules daily with or without food.

Active Ingredients: Kefi-Soy™: Organic Fermented Soybean (Glycine max, seed) 133.3mg (fermented with 35 strains of therapeutic micro-organisms) Saccharomyces cerevisiae (whole cell) 3.33 million CFU (whole cell) Therapeutic Herb Blend: Organic Chamomile 133.3mg (Matricaria recutita, flower), Organic Fennel 133.3mg (Foeniculum vulgare, seed)

Non-Active Ingredients: Organic Pullulan Capsule

Caution: Contains soy. Consult a healthcare practitioner prior to use if you are pregnant or breastfeeding or if you have a fever, vomiting, bloody diarrhea or severe abdominal pain. If symptoms of digestive upset (e.g. diarrhea) occur, worsen, or persist beyond 3 days, discontinue use and consult a healthcare practitioner. If you have an immune-compromised condition (e.g. AIDS, lymphoma, patients undergoing long-term corticosteroid treatment), or if you are allergic to plants of the asteraceae/compositae/daisy family or of the apiaceae/carrot family, do not use this product. Hypersensitivity (e.g. allergy) has been known to occur; in which case, discontinue use.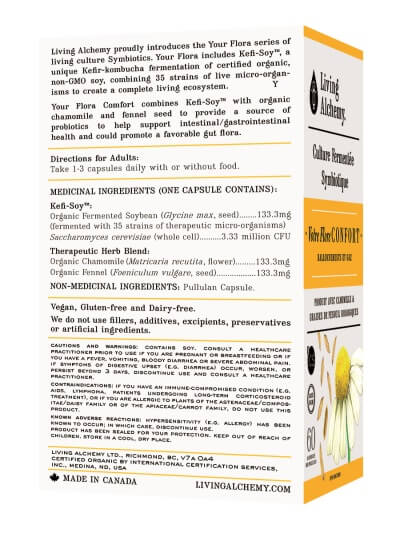 Please be advised that Well.ca follows manufacturer guidelines for storing & shipping probiotics.