Living Alchemy Your Flora Terrain
Digestive Lining
60 Capsules
Living Alchemy Your Flora Terrain
is rated out of
5
by
1
.



Please be advised that Well.ca follows manufacturer guidelines for storing & shipping probiotics.
Your Flora TERRAIN combines our fermented 35 strain Symbiotic with organic aloe vera, slippery elm and marshmallow root specifically for those needing
gut flora support with a compromised digestive lining.
The membrane within the digestive tract is just 1 cell thick. It is prone to damage which is linked to many conditions. Kefi-Soy™ contains key nutrients such as L-glutamine to helps support a healthy mucus membrane while supporting your delicate digestive ecosystem.
Features:

Restore Digestive Lining One Complete Digestive Solution: Your Flora Symbiotics
Provides Probiotics, Prebiotics, Digestive Enzymes & Nutrients
35 Strain Kefir-Kombucha Fermentation
Proven 80% Survival of Microbes
Fermented Whole Foods Plus Herbs
100% Plant Based Probiotic
Rich in Enzymes & Digestive Nutrients
Superior Bio-Availability
Certified Organic, Non-GMO, 100% Natural Whole Food Supplement
Vegan, Gluten and Dairy Free
Made in Canada
Formulated by a Qualified Nutritional Therapist
Free of from excipients, binders, additives, and any artificial ingredients or chemicals at every stage of manufacture
Directions: Adults: Take 1-3 capsules daily with or without food.

Active Ingredients: Kefi-Soy™: Organic Fermented Soybean (Glycine max, seed) 133.3mg (fermented with 35 strains of therapeutic micro-organisms) Saccharomyces cerevisiae (whole cell) 3.33 million CFU (whole cell) Therapeutic Herb Blend: Organic Aloe Vera 100mg (Aloe vera, latex) Organic Slippery Elm 83.3mg (Ulmus rubra, stem bark inner) Organic Marshmallow Root 83.3mg (Althaea officinalis, root)

Non-Active Ingredients: Organic Pullulan Capsule

Caution: Contains soy. Consult a healthcare practitioner prior to use if you have a fever, nausea, vomiting, bloody diarrhea, abdominal pain, fecal impaction, kidney disorder or are taking cardiac medications (e.g. cardiac glycosides or antiarrythmic medications), thiazide diuretics, corticosteroids, licorice root or other medications or health products which may aggravate electrolyte imbalance. If symptoms of digestive upset, abdominal pain, cramps and/or diarrhea, occur, worsen, or persist beyond 3 days, discontinue use and consult a healthcare practitioner. Do not use this product if you have an immune-compromised condition (e.g. AIDS, lymphoma, patients undergoing long-term corticosteroid treatment), abnormal constrictions of the gastrointestinal tract, potential or existing intestinal blockage, atonic bowel, appendicitis, inflammatory colon disease (e.g. Crohn's disease or ulcerative colitis), abdominal pain of unknown origin, undiagnosed rectal bleeding, severe dehydration with depleted water or electrolytes, hemorrhoids, diarrhea or are pregnant or breastfeeding. Hypersensitivity (e.g. allergy) has been known to occur; in which case, discontinue use.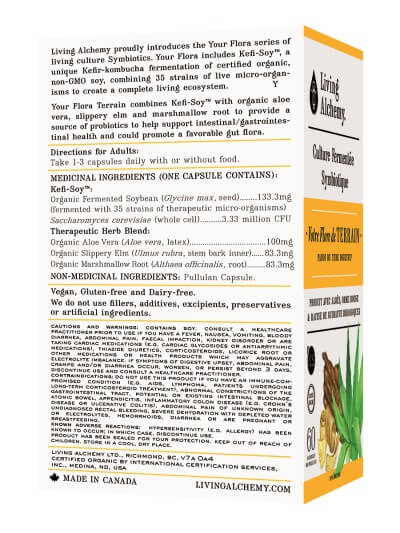 Please be advised that Well.ca follows manufacturer guidelines for storing & shipping probiotics.
Rated

3

out of

5
by
leeasha
from
soy and bread yeast
probably not the best ingredients for a probiotic..?
Date published: 2020-02-15