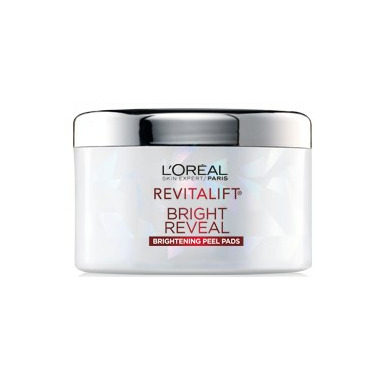 Description
L'Oreal Paris Revitalift Bright Reveal Peel Pads are dermatologist-inspired gentle cleansing pads powered with Glycolic Acid and Vitamin C. It delivers brightening and anti-wrinkle benefits to reveal more radiant, younger looking skin. As skin's natural ability to shed surface dead skin cells declines with age, dark spots and uneven tone become increasingly more visible, leaving skin looking older and more dull. Revitalift Bright Reveal effectively combats dull skin revealing brighter, smoother, and more even skin in just 1 week.

Active Ingredients:
Gycolic: Gently dissolves the glue-like substance between dead skin cells to gently exfoliate away dull skin, dark spots, and rough texture. Leaves your complexion more even, smooth and bright.
Vitamin Cg: A powerful anti-oxidant that prevents melanin production, which causes dull skin and dark spots. It stimulates the production of healthy collagen and fights oxidative stress and damage to reduce the look of dark spots.
Pro-Retinol: An advanced form of Vitamin A, it stimulates the turnover of skin cells to minimize the appearance of uneven skin tone and fine lines.

Newly revealed skin may be sensitive to sunlight. Be sure to use Broad Spectrum protection.