Lorna Vanderhaeghe Bone Booster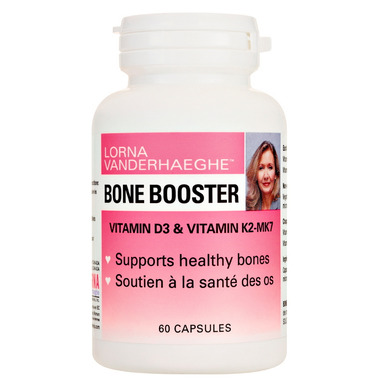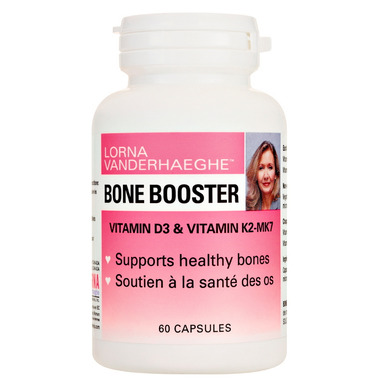 Lorna Vanderhaeghe Bone Booster
Bone Booster is a unique formula containing vitamin K2 MK-7 and vitamin D3. Calcium on its own will not build strong bones. It is essential to take bone-building nutrients including vitamin K2 MK-7 and vitamin D3 to prevent fractures and promote bone health.

Features:
Vitamin K2 MK-7 is the best form of vitamin K
For osteopenia and osteoporosis
Promotes heart health
Helps immune function
Keeps calcium in bones
Key Ingredients:

Vitamin K2 (menaquinone MK-7) from the Japanese food natto is the best source of vitamin K2. Half of the vitamin K that our body absorbs is from green leafy vegetables. Unfortunately, most foods thought to be rich in vitamin K have less vitamin K than previously thought. Vitamin K2 MK-7 regulates calcium in blood vessels to promote bone health and is non-animal sourced, so it is suitable for vegetarians/vegans.
Vitamin D, like Vitamin K2, is essential for calcium absorption. A deficiency in vitamin D leads to decreased calcium absorption, promoting osteoporosis and other conditions such as osteoarthritis, muscle cramps and twitching, joint pain and stiffness, backache, tooth decay and hair loss. Vitamin D is also essential for manufacturing the thyroid hormone.

Suggested Usage:
Take 1 capsule daily with food or as directed by a health care practitioner.
Each Capsule Contains:

This product does not contain irradiated rice flour, artificial preservatives, colours or sweeteners, dairy, soy, wheat or yeast. VEGAN-FRIENDLY. GLUTEN-FREE.