Lorna Vanderhaeghe MAGsmart
Delicious Organic Rasberry
200g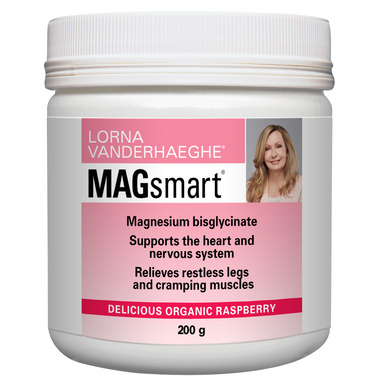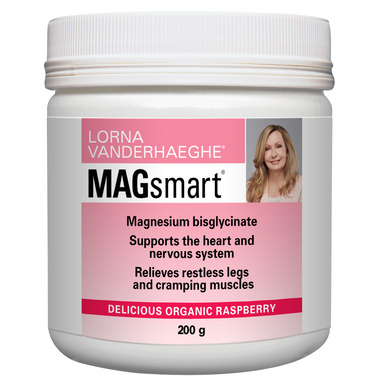 Lorna Vanderhaeghe MAGsmart
Delicious Organic Rasberry
200g
Most magnesium is sold in poorly absorbed forms that cause diarrhea when taken in optimal doses. The best forms of magnesium are bound to amino acids, particularly glycine. Magnesium bisglycinate, found in MAGsmart, is the only magnesium that crosses the blood-brain barrier and is better absorbed. MAGsmart also contains taurine needed to lower high blood pressure and stop edema (especially those puffy bags under the eyes). MAGsmart also contains B vitamins, malic acid and other nutrients to ensure proper muscle function. MAGsmart is a delicious raspberry powder that you can add to water, juice or your smoothie for a great tasting drink that works fast.
Features & Benefits:
Reduce the risk of heart disease and death due to cardiovascular disease
Reduce high blood pressure quickly Improve behaviour and concentration in children with ADHD
Improve insulin response in diabetics
Control the pain and inflammation of fibromyalgia when given with malic acid (found in MAGsmart)
Alleviate migraine headaches and headaches due to muscle tension
Stop muscle cramps, tics, restless leg syndrome, nighttime leg cramps
Reduce brain fog and depression associated with menopause
Eliminate constipation
The Pill and HRT deplete the body of magnesium so you must supplement
Caution:
Keep out of reach of children. There is enough drug in this package to seriously harm a child.
Vegan, Gluten Free, Non-GMO, Dairy Free, Canadian Brand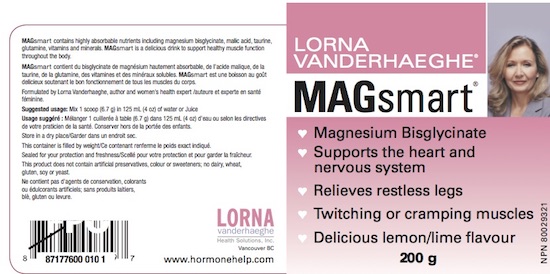 Gina:
a few months ago
Where has this product been all my life?? I am at the bottom of the large container and I'll be running like hell to my local retailer to get more. I've suffered from EXTREME lower leg/feet muscle spasms for years. So extreme that they pull my feet into positions that make them look broken. This product is SERIOUSLY MAGICAL! As a nurse, I know it's impossible to absorb and process much of anything spontaneously. But every time I have gone into spasm, I run for the Magsmart. Within minutes, it settles and I'm good for the night. Sometimes 2-4 nights. I thought it was coincidence at first that my spasms stopped so quickly after ingestion. But EVERYTIME?? Sorry. No coincidence! A great big "Thank you" to the person who created this product!
Page
1