Love Child Organics Chocolate Lil'Shake
Pediatric Nutritional Drink (Ages 1-10 Years)
4 x 235 mL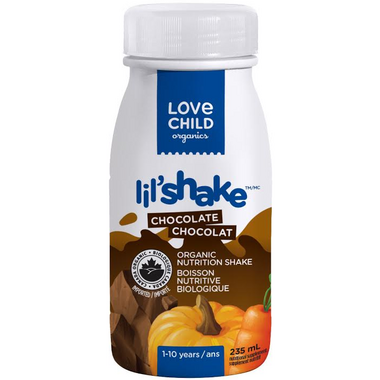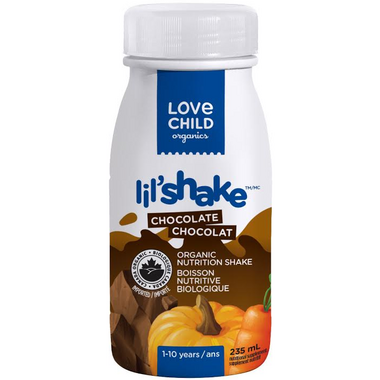 Love Child Organics Chocolate Lil'Shake
Pediatric Nutritional Drink (Ages 1-10 Years)
4 x 235 mL
Canada's first food-based, organic and gluten free, nutritional supplement beverage for children. Lil'Shakes are recommended for children age 1-10 as the perfect nutritional top-up with or between meals. These organic pediatric drinks are made with less sugar than competitors and are made with added fruits and vegetables.

Features:
24 non-GMO vitamins and minerals
No carrageenan!
170 Calories
8G of protein
Gluten Free
Certified organic

No artificial colours, flavours, or preservatives
BPA Free Packaging

Ages 1-10 Years



Serving Instructions:
Best served cold, shake well before serving. Store in cool dry place. Refrigerate after opening and use within 24hrs. Not intended for infants under 12 months of age unless specified by a physician.
Ingredients:
whole milk*,water, crystallized grape sugar*, milk proteins*, manioc starch*, acacia gum*, rapeseed oil*, sunflower oil*; carrot puree*; coconut oil*, pumpkin puree*, natural flavor*, acerola puree*, sunflower lecithin, vitamins and minerals (vitamin A-acetate, DL-alpha tocopheryl acetate, cholecalciferol, sodium ascorbate, thiamine hydrochloride, riboflavin, nicotinamide, calcium pantothenate, pyridoxine hydrochloride, biotin, folic acid, disodium hydrogen phosphate, ferrous sulfate, trisodium citrate, potassium iodide, magnesium citrate, copper sulfate, manganese sulfate, zinc sulfate, potassium hydrogen carbonate) *organic,
Contains: Milk.