Lumiere de Sel Salt Inhaler with Himalayan Salt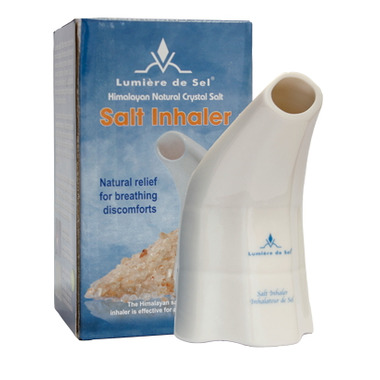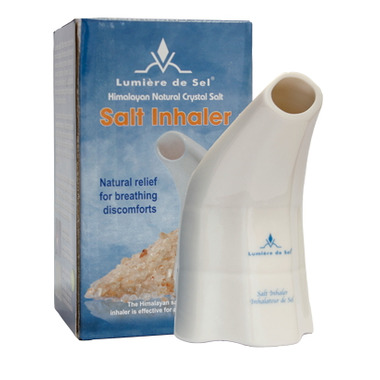 Lumiere de Sel Salt Inhaler with Himalayan Salt
This Salt Inhaler is made from high quality ceramic and packed by hand, in Canada. When you inhale through the mouthpiece, the passing moisture absorbs micron particles of incredibly pure, bio energetic and mineral-laden Himalayan Pink Salt, which penetrates and cleanses the entire respiratory system including sinuses, nasal cavities, throat and lungs. This salt air flushes impurities such as allergy and asthma triggers, smoke particulate and other impurities that can distress the respiratory system.
Features and Benefits:
100% natural, drug free effective remedy
Promotes bronchial drainage
Eases respiratory symptoms quickly
Helps reduce asthma attacks
Improves life quality, easy to use
Local effect mechanism
No counter-reaction or side effects
The Himalayan Salt Inhaler™ is considered to be the most effective type of Speleotherapy (salt air therapy). The inhaler provides the natural balance of salt needed to enhance the healing process necessary to alleviate respiratory ailments such as:
Asthma (and asthma triggers)
Hay Fever
Allergies
Sinus Conditions
Bronchitis
Cold and Flu symptoms
Breathing difficulties created by pollution in our air
Sneezing, coughing & shortness of breath
Dehydration symptoms & Irritation due to Smoking
Respiratory symptoms caused by mold or fungus
How to Use:
Holding the spout of inhaler to the mouth, inhale deeply through the mouth and exhale through your nose. The tiny particles of salt will be able to get deep into your respiratory system and, like a neti pot, will clean out nasal passageways. Using the salt inhaler pipe for 15-25 minutes daily (depending on intensity of symptoms). General use can also help flush away impurities from the air we breathe.
The Himalayan Crystal Salt is packed between two porcelain filters inside the device. Himalayan salt has strong antibacterial properties to promote good health.

MMN:
about a year ago
I bought this as I seen Dr Oz recommended Himalayan salt inhalers. I was struggling to keep my asthma under control and hate using the chemicals in the inhalers. It isn't a cure, but it sure helps. I was able to get off my inhalers and use this with allergy meds instead. I use it when I feel an attack might be coming. It loosens up everything in the lungs. Love it! I bought my family all one to use now too!
TINA:
more than a year ago
I purchased this to help with my asthma just to see if it work.
To my surprise it actually helped with sinus and nasal congestion. Did not do anything for my asthma.

This can actually get a bit messy because the salt dust falls out. As a result I do not use it that often. Only if I get a head cold.
I find Hydrasense rinse is best for allergic rhinitis and more convenient.
I am not sure I would recommend this since the results were not as drastic or noticeable as I had hoped.
Page
1