Lysol
Lysol Power & Free Bathroom Cleaner Cool Spring Breeze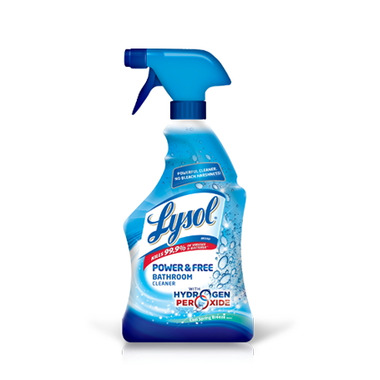 Lysol
Lysol Power & Free Bathroom Cleaner Cool Spring Breeze
Description
LYSOL® Power & Free™ Bathroom Cleaner is a powerful cleaner without the harshness of bleach. The hydrogen peroxide formula releases thousands of micro bubbles that penetrate to dissolve lime scale and rust stains.
Kills 99.9% of viruses & bacteria
No bleach harshness
No gloves, masks or protective eye wear needed
No harsh chemical residue
Leaves a fresh clean scent
Voted the Best New Product by Consumers*


*According to results of the 2014 BrandSpark Best New Product Awards survey conducted by BrandSpark International in Canada November 8, 2013 – December 5, 2013. For more information visit www.BestNewProducts.ca

The Best New Product Awards logo is a trademark of Best New Product Awards Inc., used under license.
Shipping & Returns