Maclaren BMW M Techno XT Crimson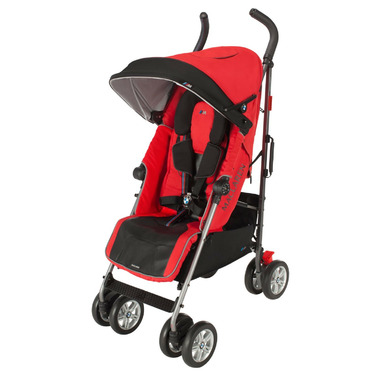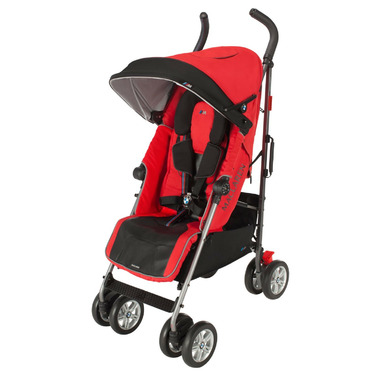 Maclaren BMW M Techno XT Crimson
Engineered for Luxury and Performance™
The best engineers do not work within the constraint of what is possible. Instead, they think in terms of what is best. It is this atmosphere which gave rise to the BMW M Buggy from Maclaren. The BMW M Buggy features an automotive-inspired contoured seat with signature M stripe harness, BMW-inspired wheel design and luxurious leather handles. This Techno XT stroller includes an assortment of coordinating accessories.

Oversized Expandable Hood and Sun Visor
The oversized waterproof hood protects your child from the elements. The extendable UPF 50+ sun canopy and built- in sun visor provides extra coverage from harmful UV rays.

Self- Service Replaceable Parts
Maintain your buggy's performance with self- service replaceable parts. Accessories and parts like wheels, handle grips, seats and hoods are now available for purchase. Engineered specifically for your Maclaren buggy.
Global Safety Standard™ Construction
Built into every product is the Marclaren Global Safety Standards, a set of highly engineered security elements that meet the highest safety standards anywhere in the world.
Sovereign™ Lifetime Warranty
Maclaren is the only brand to offer a Sovereign™ Lifetime Warranty. This warranty is built upon the expectation that when you purchase a Maclaren you receive a guarantee of quality, engineered to withstand years of use. Must register your product with Maclaren within 60 days of purchase.*
Includes:
Buggy ID tag
Carry handle
Head- hugger & shoulder pads
Built- in Newborn Safety System™
Premium wind- resistant rain cover
Rain cover storage pouch
Extendable waterproof/ UPF 50+ sun canopy and built- in sun visor
Storage cover
Four wheel suspension
Sovereign™ Lifetime Warranty*
Features:
Basic weight of 15 lbs
Carry capacity of 55 lbs
Suitable for newborns and children up to 55 lbs
Buggy tag ID
One- hand fold
Leather handles
Extendable two- position ergonomic grips
Convenient carry handle
Compact umbrella fold
Aircraft grade aluminum chassis
Head- hugger and shoulder pads
A four- position recline seat with one- hand adjustment
Removable and machine washable seat
Extendable leg rest with memory position and built- in Newborn Safety System™
Compatible with Maclaren Carrycot
5- point safety harness
Height adjustable shoulder harness
Lockable front swivel wheels
Foot- operated linked parking brakes
Shock- absorbing 4- wheel suspension
Ultralight flat- free EVA tires
Built- in storage pocket
Heat reflective basket
Oversized shopping basket
Oversized waterproof hood
Extendable UPF 50+ sun canopy and built- in sun visor
Viewing window on hood
Premium wind- resistant rain cover
Rain cover storage pouch
Storage cover
Ships fully- assembled
Self- service replacement parts available
Dimensions:
77.30 x 49.50 x 108.50