Maclaren Triumph All Star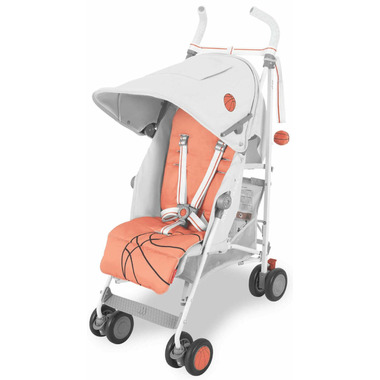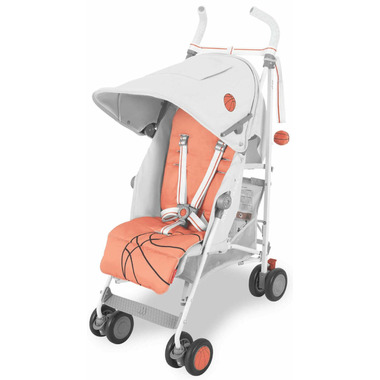 Maclaren Triumph All Star
Alley-Oop

Get in the Game! Inspired by the grace and strength of athletes, Maclaren balances style with function and hones in clever basketball design, to offer parents a slam dunk! Customized detailing includes the embroidered basketballs on the seat and liner, alley-oop screen print on the peak-a-boo window, orange striped webbing and sporty graphics on the accessories. The All Star buggy is suitable for children 6 months and up to 25kg/55lb.


The Full-Featured Lightweight Sporty Solution

A lightweight sporty and stylish ride that is perfect for quick errands or long-distance trips. Triumph features a fully padded seat with built-in leg support cushion and best-in-class multi-position recline.
Expandable Hood and Sun Visor
Proudly protecting little ones from the elements with Maclaren's waterproof and UPF 50+ expandable hood with built-in sun visor.

Viewing Window on Hood
The extra-large hood includes a window so that you can keep an eye on your precious cargo.
Storage Pocket
Easy access storage, right on the back of the hood.
5 Point Safety Harness

Five safety straps securely mounted to Maclaren aluminum frame mated with the exclusive two-finger release buckle making every Maclaren the safest seat around.
Shock-Absorbing 4-Wheel Suspension
All Maclaren buggies have all-wheel suspension, designed to provide effortless steering qualities and a super smooth ride.

Carry Strap
Facing a flight of stairs? Carrying from car to curb? Easily sling a lightweight, umbrella fold Maclaren buggy from your shoulder to get through tight spots.
Oversized Shopping Basket
Large, easy access storage below the seat.

Removable and Machine Washable Seats
Oh dear... have we spilled something? Fear not! Every Maclaren seat can be easily removed and machine washed - an extremely useful trick not found on many other buggies. Machine was in cold water on a delicate cycle and hang to dry.

Self- Service Replaceable Parts
Maintain your buggy's performance with self- service replaceable parts. Accessories and parts like wheels, handle grips, seats and hoods are now available for purchase. Engineered specifically for your Maclaren buggy.
Global Safety Standard™ Construction
Built into every product is the Marclaren Global Safety Standards, a set of highly engineered security elements that meet the highest safety standards anywhere in the world.

Sovereign™ Lifetime Warranty
Maclaren is the only brand to offer a Sovereign™ Lifetime Warranty. This warranty is built upon the expectation that when you purchase a Maclaren you receive a guarantee of quality, engineered to withstand years of use. Must register your product with Maclaren within 60 days of purchase.*
Includes:
Buggy (comes fully assembled)
Tether strap
Seat liner

Premium wind-resistant rain cover

Storage cover
Buggy ID tag

Features:
Basic weight of 12.35lbs
Ideal for children 6 months and up to 25kg/55lb
One-hand compact umbrella fold
Lightweight aircraft grade aluminum chassis
5 point safety harness

Ergonomically optimized handles
Height adjustable shoulder harness
Lockable front swivel wheels
Foot-operated linked parking brakes
Shock- absorbing 4- wheel suspension
A two-position recline seat with breathable mesh center panel inserts
Extendable waterproof/UPF 50+ sun canopy with a built-in sun visor, designed to protect from the elements
Ships fully assembled
Self-service replacement parts available

Maclaren is the only brand to offer a Sovereign Lifetime Warranty. (To safeguard your investment, you must register your stroller with Maclaren within 60 days of purchase)
Product Dimensions: 31.1 x 17.72 x 42.13 in