Maclaren Triumph Black and Charcoal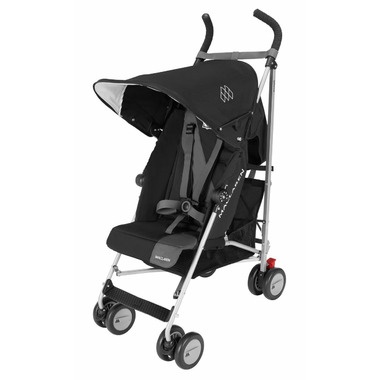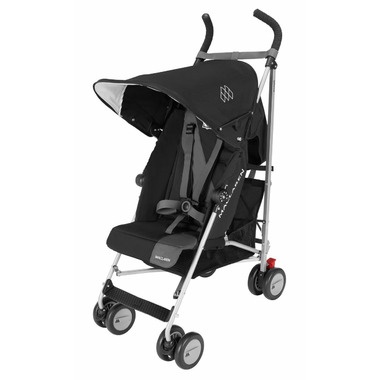 Maclaren Triumph Black and Charcoal
The All- Purpose Go Fast Buggy
A lightweight sporty and stylish ride that is perfect for quick errands or long distance trips. Triumph features a fully padded seat with built- in leg support cushion and best- in- class multi position recline.

Lightweight and Compact
High- tech aircraft grade aluminum chassis is engineered for the worlds lightest range of strollers. Compact fold with convenient auto lock and carry strap is ideal for busy families on the go and small compact spaces.

Oversized Expandable Hood and Sun Visor
The oversized waterproof hood protects your child from the elements. The extendable UPF 50+ sun canopy and built- in sun visor provides extra coverage from harmful UV rays.
Self- Service Replaceable Parts
Maintain your buggy's performance with self- service replaceable parts. Accessories and parts like wheels, handle grips, seats and hoods are now available for purchase. Engineered specifically for your Maclaren buggy.
Global Safety Standard™ Construction
Built into every product is the Marclaren Global Safety Standards, a set of highly engineered security elements that meet the highest safety standards anywhere in the world.

Sovereign™ Lifetime Warranty
Maclaren is the only brand to offer a Sovereign™ Lifetime Warranty. This warranty is built upon the expectation that when you purchase a Maclaren you receive a guarantee of quality, engineered to withstand years of use. Must register your product with Maclaren within 60 days of purchase.*

Includes:
Storage pocket on apron
Carry strap
Premium wind- resistant rain cover
Extendable waterproof/ UPF 50+ sun canopy and built- in sun visor
Four wheel suspension
Sovereign™ Lifetime Warranty*
Features:
Basic weight of 10.8 lbs
Carrying capacity of 55 lbs
Ideal for children 6 months and up
One- hand fold
Cushioned foam grip handles
Ergonomically optimized handles
Convenient carry strap
Compact umbrella fold
Aircraft grade aluminum chassis
Removable and machine washable seat
A multi- position recline seat with leg support cushion
5- point safety harness
Height adjustable shoulder harness
Lockable front swivel wheels
Foot- operated linked parking brakes
Shock- absorbing 4- wheel suspension
Ultralight flat- free EVA tires
Built- in storage pocket
Oversized shopping basket
Oversized waterproof hood
Extendable UPF 50+ sun canopy and built- in sun visor
Premium wind- resistant rain cover
Ships fully- assembled
Self- service replacement parts available
Dimensions:
81.00 x 47.00 x 104.30