Macrolife Naturals Jr. Macro Coco Greens for Kids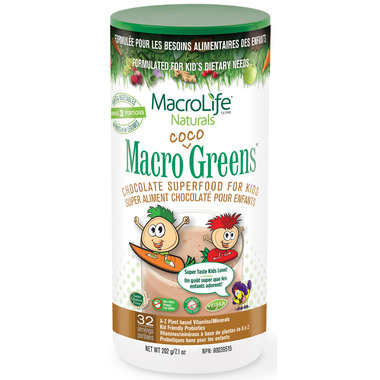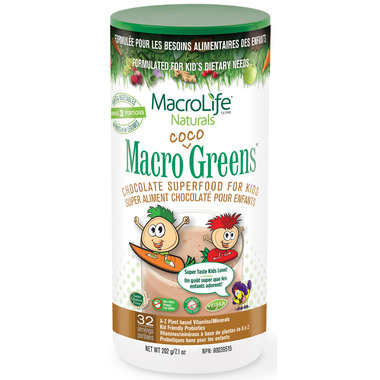 Macrolife Naturals Jr. Macro Coco Greens for Kids
Macro Coco Greens is an all natural chocolate super "greens" multi-vitamin drink mix with a taste kids love! Delicious is the new nutritious!
Features:
Multi-Vitamin & Multi-Mineral formula supplies whole food A-Z nutrition
3.5 Billion Probiotics and Enzymes aid digestion and support immune system
Essential Vitamins A, C, D, E plus Calcium, Magnesium, Trace Minerals & Electrolytes
3+ servings of fruits and vegetables
Perfect "green food" alkalizing source
70% less sugar than other coco drinks
NO High Fructose Corn Syrup or Artificial Ingredients
Gluten Free, Raw & Vegan
Ingredients: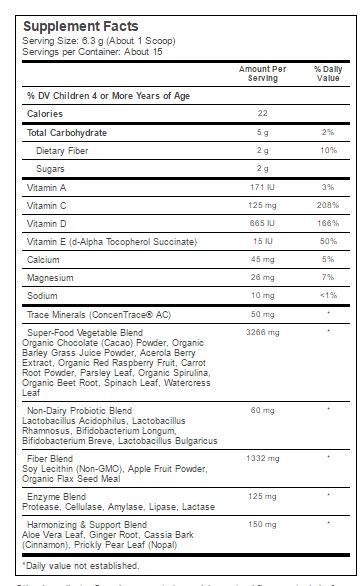 Other Ingredients: Organic Evaporated Cane Juice, Natural Flavors, Stevia Leaf, Calcium Citrate, Magnesium Glycinate, Sea Salt. CONTAINS SOY.
Cautions and Warnings: Discontinue use and consult a health care practitioner if symptoms of digestive upset (e.g. diarrhea) occur,worsen or persist beyond three (3) days. Consult a health care practitioner prior to use if you are pregnant or breastfeeding.
Contra-Indications: Do not use if you are experiencing nausea, fever, vomiting, bloody diarrhea or severe abdominal pain, or if you have an immune-compromised condition (e.g. AIDS, lymphoma, long-term corticosteroid treatment).
Known Adverse Reactions: Hypersensitivity, such as an allergy, has been known to occur in rare cases; in such case, discontinue use.