Maybelline Superstay Better Skin Concealer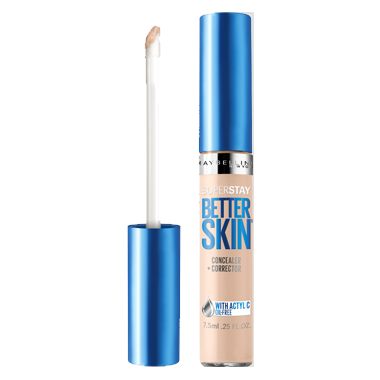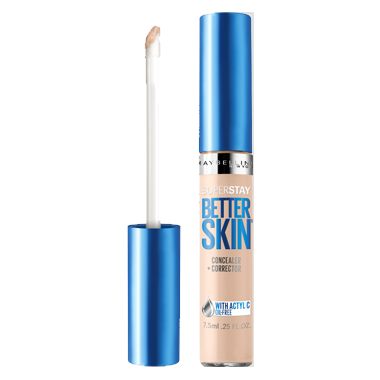 Maybelline Superstay Better Skin Concealer
Maybelline Superstay Better Skin Concealer is a 2-in-1 targeted Concealer + Corrector with an ACTYL C complex, an ingredient known for its antioxidant benefits.
Features:
The concealer instantly provides all-day flawless correction
Visibly reduces the appearance of dark circles, spots and imperfections in just 3 weeks
Has the antioxidant power of Actyl-C, a more durable form of vitamin C
For Best Results:
Use the applicator and apply desired amount directly on imperfections, spots or under eyes. Pat with finger to blend.
Shonna:
about a year ago
This works great along the center of the face(including cheek area) to brighten things up as well give that paler look which makes the eyes and lips stand out. It really looks natural, like my own skin, yet better. I set it with powder, that way I ensure it lasts all day. Really gives a flawless, pretty look.
Jennifer:
more than a year ago
I initially purchased this with the matching foundation. Using both in combination make your skill look GREAT - comparable to higher end products! I stopped using the foundation because I wanted to give my skin a break from a heavy foundation everyday so I just used this concealer around my eye area and to cover up any noticeable blemishes. It covers well and its a buildable product. However, the only reason why I am not giving it a 5 is because it doesn't last all day. I am busy and don't have time to reapply a concealer several times a day and unfortunately with this one, you'll end up looking tired at the end of the day. I do continue to purchase it and wear it solo because its one of the only concealers that have no caused irritation or breakouts on my sensitive skin and its a good price. To get the best use out of it, wear it with the foundation and you'll be happy!
Page
1