Medela
Medela Quick Clean Micro-Steam Bags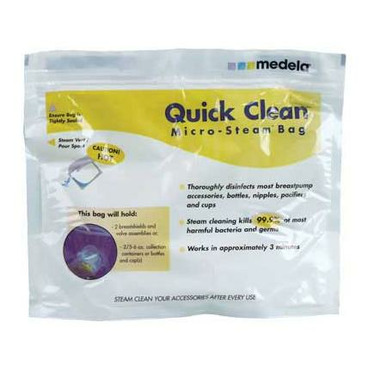 Medela
Medela Quick Clean Micro-Steam Bags
5 Count
Medela Quick Clean Micro-Steam Bags
is rated out of
5
by
20
.
---
Description
Making moms life a little easier!

For daily disinfecting:
Unique and powerful, Quick Clean Micro-Steam Bags™ eliminate 99.9% of all harmful bacteria and germs from most breastpump parts and feeding accessories.

Fast—complete in 1-5 minutes

Unique—faster than boiling and more effective than dishwashing

Easy-to-use—Just add water and heat in the microwave

Economical—5 reusable bags per box (up to 20 uses per bag = 100 uses)
This product is excluded from any special promotions or coupons.
Shipping & Returns
Rated

5

out of

5
by
Michelle
from
Had my baby prematurely, and therefore had to pump. The NICU required that we use these, and I am glad. If I had of had to boil water each and every time I used my pump, I think I would have gone insane and given up on the idea of breastfeeding entirely! So much easier, and I still use them now that my baby is nearly 7 months old (what can I say? Once you see your child sick in the hospital, you NEVER want to see it again!). Overall, it was likely an expensive decision (as someone else said, they aren't that big, so it's easy to go through the 20 uses), but I do not regret it at all.
Date published: 2012-07-31
Rated

4

out of

5
by
Christina
from
i was at the Montreal children hospital for my 1 month old son and since he wasent able to drink a lot i was pumping my milk and this bag save my life to sterilise and be able to re-use my pump accessories more then once without going back home. It is just dangerous for burning hazard. to be manipulate with a lot of precaution since the steam and hot water comming out from the side.
Date published: 2011-04-30
Rated

5

out of

5
by
sharalyn
from
LOVE this product. Recently went on a short vacation with my 2 month old son and was able to continue to pump and use bottles because our hotel room had a microwave! Also more environmentally friendly because it only takes 2-3 oz of water to sterilize!
Date published: 2011-09-04
Rated

5

out of

5
by
Beka
from
These are great and make sanitizing quick and painless. The bag isnt big so you do go through your 20 uses quickly. Also I dont quite understand why you can only use it 20 times. Either way, a lot better than a boiling pot of water.
Date published: 2012-06-08
Rated

5

out of

5
by
Tam
from
Quick and effective. Loved that it was compact. Used these when my twins were premature and in NICU. I could sterilize my pump and tote it to the hospital in this bag. Great price.
Date published: 2012-08-12
Rated

5

out of

5
by
Fran
from
Handy for those without a sterilizer, dishwasher or time for boiling. Just make sure you have enough water. Be careful when/if sterilizing tubes from pump. I managed to melt mine.
Date published: 2016-05-23
Rated

5

out of

5
by
Angela
from
A must-have for the busy mom who needs to clean pump parts quickly. Who has time to be boiling, and constantly washing pump parts? Pop it in the microwave and voila!... done.
Date published: 2011-07-05
Rated

5

out of

5
by
Mary
from
These are awesome -- way easier than using a sanitizing unit or boiling on stove. Super quick! Just be sure to watch your hands around the steam.
Date published: 2012-04-02