Medela
Medela Swing Single Breastpump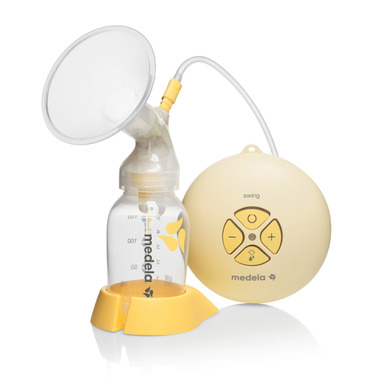 Medela
Medela Swing Single Breastpump
Description
This item is a final sale item. Returns cannot be accepted.


Medela Swing Breastpump is a single electric breastpump which perfectly adapts to the daily routine of a dynamic mother. Ideal for occasional or frequent pumping; handy, trendy and quiet.
Medela Swing Breastpump features the same patented 2-Phase Expression technology as in Medela's hospital grade breast pump. It's adjustable suction strength and one-touch let down button with built-in maximum suction level safeguard allows you to choose your comfort level.
Medela Swing Breast Pump Features:
With 2-Phase Expression®
Reduce breast pumping times
Easy to use, assemble and clean

Ideal for out and about
Gently massaging SoftFit® breastshield
Electric or battery-powered
Quiet
Includes:
1 - Swing motor unit




1 - PersonalFit 24mm (medium) breastshield




1 - Breastshield connector (pump body)




1 - Valve




3 - Membranes




1 - Tubing




2 - 5oz (150mL) breastmilk bottles




2 - Bottle lids




1- Calma solitaire




1 - Bottle stand




1 - Shoulder/neck strap




1 - AC adapter




1 - Drawstring bag




1 - Breastfeeding Information Guide & Instructions for use



IMPORTANT: This product is a single user item. Use by more than one user may pose a health risk, performance questions, and voids the warranty.
Chosen for you and your baby - All Medela parts that come into contact with breastmilk are BPA/DEHP Free
.
This product is excluded from any special promotions or coupons.
Shipping & Returns
Unfortunately, due to the nature of this item, we cannot accept any returns.
We are only able to ship this item to Canadian customers.
Click here for more information