MegaFood Baby & Me 2 Multi-Vitamin with Bonus Blood Builder
60 Tablets + 30 Bonus Tablets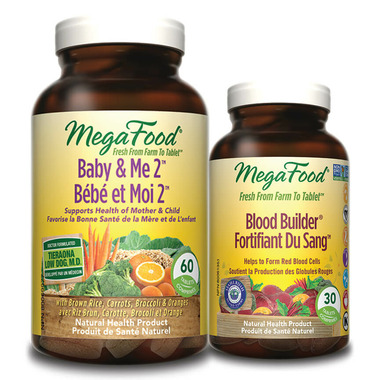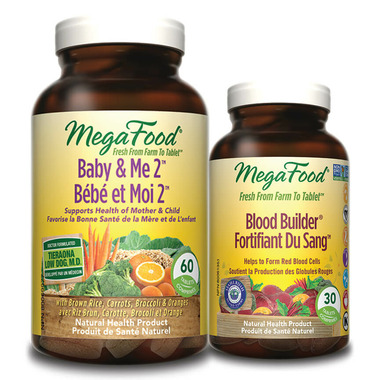 MegaFood Baby & Me 2 Multi-Vitamin with Bonus Blood Builder
60 Tablets + 30 Bonus Tablets
- We're sorry, this product is no longer available!
- Shop for other products in: Prenatal

MegaFood Baby & Me 2
MegaFood Baby & Me 2 supports the health of mother and child. For baby there is 600 mcg of Folate and 150 mcg of Iodine to support healthy development and Choline for healthy brain development. For Mom this assists with healthy hemoglobin and iron levels and helps to keep engery and mood balanced.
Features:
100% or more of all 8 FoodState B Vitamins for healthy energy & balanced mood
Methylated folate and B12
B6 to accommodate higher requirements during pregnancy
Gluten free
Vegetarian
Tested free of herbicides and pesticides
Soy free
Dairy free
Non-GMO
Kosher
Dosage:
Adults Take 2 tablets daily with food a few hours before or after taking other medications.
Ingredients:
Vitamin A (beta carotene in carrot) 2500 IU, Vitamin D3 (cholecalciferol in S. cerevisiae) 300 IU, Vitamin E (mixed tocopherols [sunflower] in organic brown rice) 15 IU, Choline (choline bitartrate) 150 mg, Vitamin C (ascorbic acid in organic orange) 100 mg, Niacin (niacinamide in S. cerevisiae) 10 mg, Iron (mineral bound S. cerevisiae 9 mg, Zinc (rice amino acid chelate) 7.5 mg, Pantothenic Acid / Acide Pantothénique (calcium pantothenate in organic brown rice) 5 mg, Vitamin B6 (P5P in organic brown rice) 4 mg, Potassium (mineral bound S. cerevisiae) 2 mg, Vitamin B2 (riboflavin 5'-phosphate sodium in organic brown rice 850 mcg, Vitamin B1 (thiamine HCl in S. cerevisiae 750 mcg, Manganese (mineral bound S. cerevisiae) 500 mcg, Folate (5-MTHF in broccoli) 300 mcg, Biotin (in organic brown rice 150 mcg, Copper (mineral bound S. cerevisiae) 75 mcg, Iodine (mineral bound S. cerevisiae) 75 mcg, Selenium (mineral bound S. cerevisiae) 25 mcg, Chromium (mineral bound S. cerevisiae) 25 mcg, Vitamin K1/K2 (phytonadione/menaquinone-7 in cabbage 30 mcg, Molybdenum (mineral bound S. cerevisiae) 5 mcg, Vitamin B12 (methylcobalamin in S. cerevisiae 4 mcg. Non-medicinal ingredients: cellulose (protective coating), silica, stearic acid, brown rice, yeast (S. cerevisiae).
Caution:
Consult a health care practitioner prior to use if you are taking blood thinners. Keep out of reach of children. There is enough iron in this package to seriously harm a child.
MegaFood Blood Builder
MegaFood Blood Builder helps to form red blood cells.

Features:

Naturally combats fatigue and improves energy levels
Promotes healthy blood cell production and circulation
Organic beet root nourishes the blood. Easy to digest and non-constipating
Suggested Use: 1 tablet daily. May be taken anytime throughout the day, even on an empty stomach.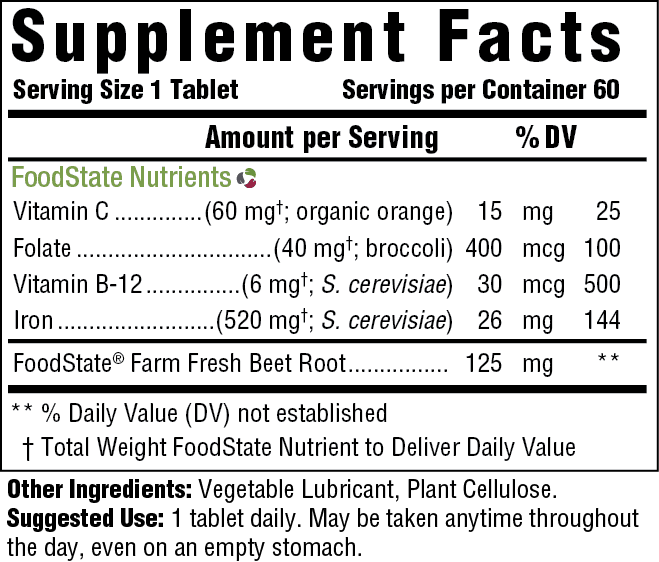 FoodState Nutrients™ are made with fresh and local foods. Crafted with MegaFood's Slo-Food Process™, they deliver the most authentic nourishment available, which MegaFoods believes the body recognizes as 100% whole food.

Natural, Non-GMO, Gluten Free, Sugar Free, Peanut Free Facility, Tree Nut Free Facility, Kosher, Vegan, Dairy Free