MegaFood Daily C-Protect Nutrient Booster Powder





MegaFood Daily C-Protect Nutrient Booster Powder is made with a blend of blueberries, cranberries and Uncle Matt's organic whole oranges for a big boost of vitamin C!
Features:
Concentrated potency of whole food Vitamin C delivered in Organic Whole Oranges, helps to nourish your immune system naturally
Astragalus and schisandra berry work together to fuel your overall immune system and support the body's healthy response to stress
FoodState Vitamin C and Farm Fresh Fruit Phenolic Blend, combined, deliver an array of polyphenolic compounds to help power the healthy immune fighter cells and body defenses
Suggested Use: Add 1 level scoop (2.1 g) to 6-8 ounces of your favorite smoothie, shake or juice, blend well and enjoy.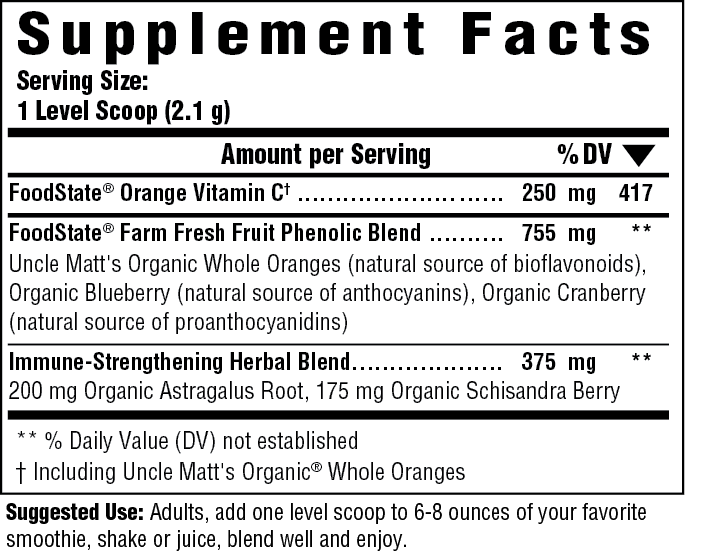 FoodState Nutrients™ are made with fresh and local foods. Crafted with MegaFood's Slo-Food Process™, they deliver the most authentic nourishment available, which MegaFoods believes the body recognizes as 100% whole food.

Natural, Non-GMO, Gluten Free, Sugar Free, Peanut Free Facility, Tree Nut Free Facility, Kosher, Vegan, Dairy Free