MegaFood Men Over 40 One Daily Multi-Vitamin Bonus Pack
BONUS 30 TABLET BOTTLE
72 tab + 30 tab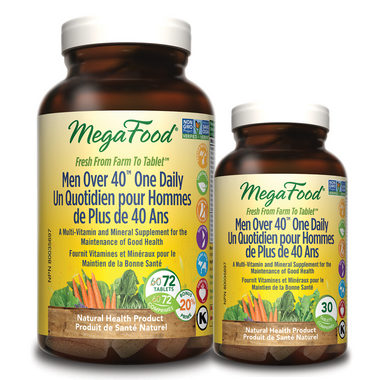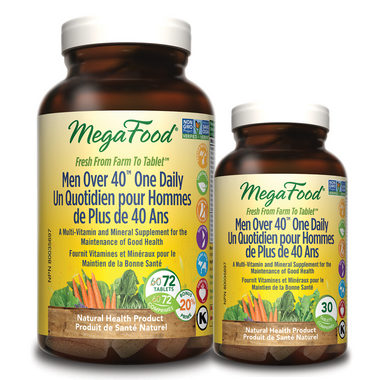 MegaFood Men Over 40 One Daily Multi-Vitamin Bonus Pack
BONUS 30 TABLET BOTTLE
72 tab + 30 tab
The MegaFood Men Over 40 Daily Multi-Vitamin supports optimal health and well-being.
Features
:
Zinc supports healthy prostate function
FoodState® B vitamins support healthy energy production and nervous system health
400 IU (10 mcg) of FoodState® Vitamin D supports already an already healthy mood and bones
Iron-free formula

Medicinal Ingredients (1 tablet contains):
FoodState Vitamins and Minerals:
Vitamin C 60mg
Niacinamide 20mg
Vitamin E 12mg
Pantothenic Acid 10mg
Vitamin B1 (Thiamin) 4mg
Vitamin B2(Riboflavin) 3mg
Vitamin B6 3mg
Beta-Carotene 1350mcg
Folate 400mcg, Biotin 80mcg
Vitamin K1 15mcg
Vitamin B12 15mcg
Vitamin D3 10mcg)
Zinc 15mg
Potassium 4mg
Magnesium 1mg
Manganese 1mg
Calcium 1mg
Boron 500mcg
Copper 300mcg
Iodine 150mcg
Chromium 60mcg
Selenium 14mcg
Molybdenum 40mcg
Organic Saw Palmetto Fruit 25mg
Organic Ashwagandha Root 15mg
Organic Eleuthero Root 15mg
Organic Astragalus Root 13mg
Organic Ginkgo Leaf 10mg
Organic Hawthorn Fruit 8mg
Organic Schisandra Fruit 5mg
Organic Dandelion Leaf 4mg
Organic Nettle Leaf 4mg
Organic Turmeric Root 4mg
Organic Ginger Root 3mg
Organic Oregano Leaf 2mg
Organic Shiitake Mushroom 2mg

Non-medicinal ingredients:
Farm Fresh Fruit Blend (fruit phenolic phytonutrients from organic blueberry, organic cranberry and organic orange), Organic Whole Brown Rice, Vegetable Lubricant, Silica and Cellulose (protective coating).
FoodState Nutrients™ are made with fresh and local foods. Crafted with MegaFood's Slo-Food Process™, they deliver the most authentic nourishment available, which MegaFoods believes the body recognizes as 100% whole food.
Gluten Free, Wheat Free, Kosher, Vegetarian, Non-GMO