MegaFood
MegaFood Vitamin D3 Wellness (1000 IU) Mixed Fruit Gummies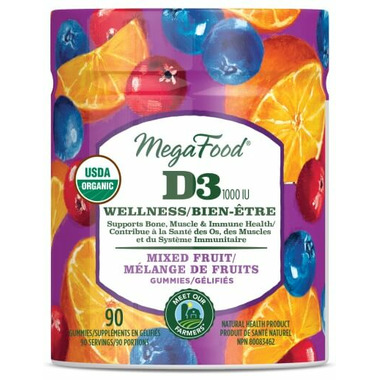 MegaFood
MegaFood Vitamin D3 Wellness (1000 IU) Mixed Fruit Gummies
Description
MegaFood Gummies are made with real, whole foods sourced from farm fresh partners—no artificial or added colors, flavors or preservatives, period—plus they're easy to chew and swallow. Fresh-picked Florida oranges, Wisconsin cranberries, Quebec blueberries and Kauai ginger root—a bountiful blend!—give our gummies a real boost in flavor and color, while 1000 IU (25 mcg) of FoodState Vitamin D supports bone, muscle and immune health.

Dosage: 2 gummies daily.

Active ingredients: Vitamin D3, Organic Whole Orange and Super Food Blend, Organic Sweet Orange, Organic Cranberry, Organic Blueberry, Organic Ginger Root
Non-active ingredients: Organic Tapioca Syrup, Organic Cane Sugar, Organic Tapioca Maltodextrin, Apple Pectin, Sodium Citrate, Organic Coating to prevent sticking (Organic Sunflower Oil, Organic Carnauba Wax).
Caution: May be taken anytime throughout the day, even on an empty stomach.

Highlights

Shipping & Returns