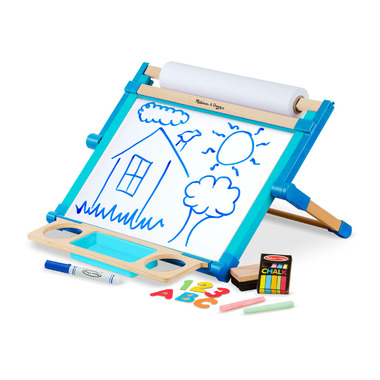 Description
Inspire endless creativity with this double-sided tabletop easel, featuring a magnetic dry-erase board on one side, and a chalkboard on the other. The sturdy wooden easel folds flat for handy storage.
Includes:
Paper-roll holder with a paper guide and tear-bar accommodates 12-inch paper rolls
Dry-erase marker and felt eraser
Five colored chalk sticks
50-foot-long paper roll
36 letter and number magnets
Art supply tray.
Product Dimensions:
20.75" x 17.5" x 2.75"
Features
Sturdy wooden double-sided tabletop art easel that folds flat to store
Magnetic dry-erase board on one side, chalkboard on the other
Shipping & Returns