method
Method Bathroom Cleaner Natural Tub + Tile Spray Eucalyptus Mint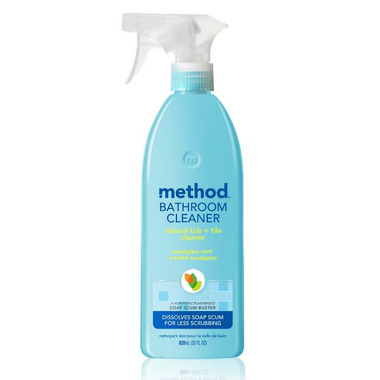 method
Method Bathroom Cleaner Natural Tub + Tile Spray Eucalyptus Mint
828 mL
Method Bathroom Cleaner Natural Tub + Tile Spray Eucalyptus Mint
is rated out of
5
by
34
.
---
Description
It's like TNT for soap scum.

Your bathroom: It's a naked kind of place. And no place for soap scum, hard water stains and mildew, not to mention residue from bleach and ammonia-based cleaners. Well, we mentioned it. This biodegradable formula takes away the icky stuff, leaving nothing but a spa-like scent in its wake!

Highlights

Ingredients
Purified water, decyl polyglucoside, citric acid, potassium hydroxide, alcohol ethoxylate, alcohol ethoxylate, methoxyisopropanol, fragrance oil blend, preservative
Shipping & Returns
Rated

5

out of

5
by
Grandma Sassy
from
Wow - great cleaner!
I love how this cleaner smells, but the most amazing thing about this cleaner is how it cuts through built up soap scum and dirt. My shower looked quite clean until I sprayed this cleaner on, left it for a few minutes and I could actually see little rivers where the cleaner had cut through the grime and showed how grey it actually was. I even used this cleaner on my sinks after having cleaned them with another cleaner and the same thing happened! They were just sparkling after using up the method cleaner! I love this stuff!
Date published: 2021-11-09
Rated

5

out of

5
by
Sham
from
The smell is divine
I've been using this for 2 years now and its one of the best without the chemical smell. It's good for a weekly upkeep but not if you need a deep scrub. Not only does it smell great but it gets the job done too
Date published: 2020-12-03
Rated

5

out of

5
by
Corina
from
On my list for a long time as number 1.
I wasn't expecting anything out of the ordinary, but ... wow! Excellent product! It cleans impeccably, the ceramic, the shower, the sink shine and what to say about the smell - discreet, fresh. On my list for a next order. I think he's going to stay on my list for a long time as number 1. Their toiletry product is also excellent.
Date published: 2020-11-13
Rated

5

out of

5
by
badkim
from
Very effective & smells divine!!!
I purchased this product for the first time & I am so pleased!!! This bathroom spray is very effective without the harsh chemicals we've become accustomed to. This will be my new must-have product for the bathroom - an absolute necessity!!! Smells so fresh & clean - just love it!!!
Date published: 2020-06-01
Rated

5

out of

5
by
van_reis_9
from
Favorite cleaning spray
Super effective against soap scum/stains and does a decent deep clean if you hit the worst spots with a bit of extra scrubbing. SMELLS EXCELLENT, fresh and not overpowering or chemical!
Date published: 2021-07-27
Rated

5

out of

5
by
Hockey Mom
from
Really cleans and smells great!
I bought this a couple of months ago and absolutely love it. I have never tried natural cleaners but with a little one in the house I wanted to make the change. I bought a few different brands to try and this one has come out on top! It really cleans and smells great! My little guy can actually "help" clean. And I find cleaning the bathroom is not as much of chore. Definitely recommend this one!
Date published: 2020-06-30
Rated

5

out of

5
by
C.L.
from
Method products are very good!
I have used Method products for years, hand soaps, dish soaps, laundry detergent, etc. I also liked Green Works for the bathroom, which is no longer available. Method is as good as, or better than Green Works. Great to know that it's non-toxic, and it has a pleasant, clean scent the doesn't make me cough! The cleaner and the toilet duck are very efficient - an excellent product.
Date published: 2022-03-02
Rated

1

out of

5
by
Gina
from
Does not work
This product does not help with bathroom cleaning what so ever you might as well be spraying water on you tub or your shower walls. The smell is also not great so all in all will not be using this product from method
Date published: 2021-07-14